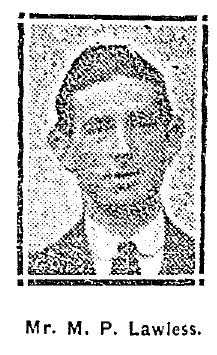 On 25 May 1921, this young Irish veteran of WWI from a strongly Nationalist family was a temporary clerk in the Local Government Board at the Custom House.
He was badly wounded inside the building's compound by gunfire from the Auxies assaulting the place. Carried outside by some of his colleagues, he died before reaching a hospital.
Born 18 November 1897 at 3 Janeville in Sunday's Well, Cork City, Mahon was the first child of Peter John Lawless (from Swords, Co Dublin) and Hannah née Buckley a Dunmanway lady.
In 1901, the father completed the census form as Gaeilge despite being a crown civil servant with Customs & Excise. His job involved several subsequent transfers – from Cork, via Belfast & Southampton to London, tracked by his children's birthplaces. The 1911 English census records the family living at Ilford, Essex. Showing their Nationalism, all the children have very Irish names, although not written in Irish script on that occasion.
As a resident in England, Mahon was liable for WWI military service. At 18, he was called up to the Reserve. He was a civil servant and a small lad (5 ft 5 ins, chest 34 ins, weight 8 stone). Young Lawless was mobilised in August, 1916. Posted to 7th York & Lanc Regiment, he became Private 235814 with the role of Drummer.
Mahon Lawless served with the British Expeditionary Force in France 1917-1918, including duty at POW Camp 121. In 1919 he was demobbed and awarded the standard WWI British War & Victory Medals.
With lots of relatives in Dublin, he moved there and got a civil service job again. Ironically and tragically, having survived the war horrors of France, Mahon met his end – in his own country – at the hands of the same crown forces he'd fought for in France.
He was living at 87 Lindsay Road near Glasnevin (wrongly reported in the papers as Leinster Road, Rathmines) and was single.
The military inquiry found he'd been "shot by Crown forces in the execution of their duty – accidental death". This was a verdict they could not fudge; there were too many witnesses among Mahon's colleagues to prove an Auxy bullet had killed him.
His parents travelled from London for his funeral, his mother arriving the day beforehand and his father landing on the morning of the funeral after a long rail and boat trip.  Mrs Lawless identified her eldest son's remains in KGV Hospital and attended the Inquiry at which she pointed out that Mahon had fought in France during the Great War. We can imagine her having worried about him serving in the war zone and her tremendous relief at his safe return. That he ended up shot dead in his native country as a civilian doing an office job after what he'd survived before must have been horrifying for the family.
After Mass in Drumcondra Church where his LGB colleagues were pall-bearers, the newspapers reported Mahon was buried in the family plot at Killossery, North Co Dublin in Rolestown, between Swords & Ashbourne.
Mahon was related to the well-known Lawless family of Saucerstown, Swords who were very active Nationalists. He was a nephew of Frank J. Lawless, Sinn Féin T.D. in the 1st & 2nd Dáil. Frank, two of his sons plus cousins had fought at the Battle of Ashbourne in 1916 and several later served in the IRA & Free State Army.
The little graveyard at Rolestown contains several Lawless family headstones on which many names are inscribed. But strangely, Mahon does not appear among them. That is possibly because he was actually buried in Glasnevin! Brian Smith, a Dublin historian and writer has located a burial record which matches all his known details (and corrects his address at the time he was killed). This must be correct; after all, Mahon Lawless was a unique name. It seems young Lawless is interred in plot GB82.5, South Section.
There is a strange postscript to Mahon's story. His British war medals were duly sent to his family in November 1921.
Although the lad was dead and buried 6 months, some family member entered the signature M. Lawless on a return card confirming receipt of the medals. Final tokens and keepsakes for the family to remind them of their lost eldest son?
RIP
Des White