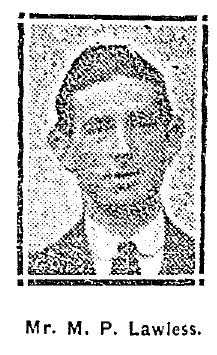 On 25 May 1921, this young Irish veteran of WWI from a strongly Nationalist family was a temporary clerk in the Local Government Board at the Custom House.
He was mortally wounded by gunfire from the Auxies assaulting the place while sheltering with colleagues in stationery shed in an internal courtyard of the building. The group of civil servants were mistaken for raiders. Fire was opened on them without warning and several were hit. Mahon was mortally wounded in the chest. The colleague closest to him said Mahon never spoke again. The man whispered an Act of Contrition in his ear but later related "Sadly he did not hear it". Carried outside by some of his colleagues, he died before reaching a hospital.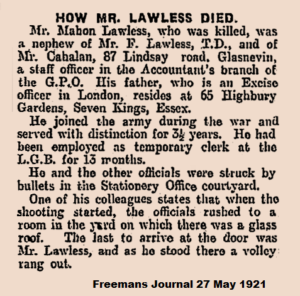 Origins and Background
Born on 18 November 1897 at 3 Janeville in Sunday's Well, Cork City, Mahon Patrick was the first child of Peter John Lawless (a Customs official from Swords, Co Dublin) and Hannah née Buckley a Dunmanway woman. His name Mahon did not come from that place in Cork – it was a reference to relations in his family past.
In 1901, the father completed the census form as Gaeilge despite being a crown civil servant with Customs & Excise. His job involved several subsequent transfers – from Cork, via Belfast and Southampton to London, tracked by his children's birthplaces.
Teenage Years in Engalnd
The 1911 English census records the family living at Ilford, Essex. Showing their Nationalism, all the children have very Irish names, although not written in Irish script on that occasion. The one son 'missing' from the form was Niall, at the time visiting relatives in Dublin.
As a resident in England, Mahon was liable for WWI military service. At 18, he was called up to the Reserve. He was a civil servant and a small lad (5 ft 5 ins, chest 34 ins, weight 8 stone). Young Lawless was mobilised in August, 1916. Posted to the 7th York & Lanc Regiment, he became Private 235814 with the role of Drummer. His medical record showed he was required to wear glasses and was passed fit for Home Garrison duties.
War Service
Mahon Lawless served with the British Expeditionary Force in France from 1917-1918, including duty at POW Camp 121. In 1919 he was de-mobbed and awarded the standard WWI British War and Victory Medals. His return to civilian life would lead to a fateful decision. Perhaps post-war employment in London was a problem, but in any event Mahon moved to his native land.
A Brief and Fatal Time in Dublin
With relatives in Dublin, he settled there in April 1920 and got a civil service job again. Ironically and tragically, having survived the war horrors of France, Mahon met his end – in his own country – at the hands of the same crown forces he'd fought for in France.
There are differing records as to where he was living. His mother told the inquiry his address was 5 Leinster Road, Rathmines; this may have been misreported. Other records show he lived at 87 Lindsay Road near Glasnevin, the home of his maternal aunt and her husband, the Cahalans.
Death on a Sunny Afternoon
The military inquiry found he'd been "shot by Crown forces in the execution of their duty – accidental death". This was a verdict they could not fudge; there were too many witnesses among Mahon's colleagues to prove an Auxy bullet had killed him. Mr. A. E. Wilson of the LGB testified to the inquiry how Mahon had been shot. He said young Lawless suddenly crumpled to the ground at his feet. He was bleeding badly and never spoke a word. Despite his colleagues' best efforts, he died 15 or 20 minutes later. Mr. Wilson also refuted newspaper claims by some Auxiliaries that armed men mingling with his group of civil servants crammed into the stationery shed had fired at them.
Mahon's parents travelled from London for his funeral, his mother arriving the day beforehand (Friday 28 May) and his father landing on the morning of the funeral after a long rail and boat trip.  Mrs. Lawless identified her eldest son's remains in KGV Hospital and attended the Inquiry at which she pointed out that Mahon had fought in France during the Great War. We can imagine her having worried about him serving in the war zone and her tremendous relief at his safe return. That he ended up shot dead in his native country as a civilian doing an office job after what he'd survived before must have been particularly horrifying for the family.
Funeral and Burial
The Funeral Mass was held in St Columba's Church in Drumcondra where his LGB colleagues acted as pall-bearers. He had been well-liked and well-regarded in the Custom House. The family death notice and newspaper reports indicate Mahon was buried in the family plot at Killossery, North Co Dublin (in Rowlestown, between Swords & Ashbourne).
Mahon was related to the well-known Lawless family of Saucerstown, Swords who were very active Nationalists. His father Peter was a brother of Frank J. Lawless, North Dublin Sinn Féin T.D. in the 1st and 2nd Dáil.
Frank, two of his sons plus cousins had fought at the Battle of Ashbourne in 1916 and several, including Colonel Joseph V. Lawless, later served in the IRA and Free State Army. A cousin Evelyn was active with Cumann na mBan and subsequently went on to become a nun.
At the time Mahon was killed, Frank and Joseph V. Lawless were interned and could not attend the funeral. They were released after the Truce. Frank retained his seat in the 2nd Dáil and voted in favour of the Treaty in January 1922. Three months later he was killed in a pony-and-trap accident in north Co. Dublin.
He was buried with full military honours in Rowlestown. Among the large attendance were Arthur Griffith, Eamon de Valera and Michael Collins; the funeral is reputed to have been one of the last occasions on which they stood side-by-side.
The little graveyard at Rowlestown contains several Lawless family headstones on which many names from several generations are inscribed.
But sadly and strangely, Mahon's name did not appear among them until 2021.
Commemorated at Last
However, Peter Rooney, who is related to the Saucerstown Lawlesses, has organised an inscription to commemorate Mahon on the renovated family headstone at Rowlestown.
The Saga of His Actual Burial Place
Located – Or Not?
Peter, a stalwart with the Fingal Old IRA Commemorative Society, also intended to erect a headstone on the lad's believed real resting place, traced independently by himself and Brian Smith, a Dublin historian.
It transpires Mahon Lawless is recorded as interred in Glasnevin! This writer has seen the online burial record which shows the tragic young Lawless is in the unmarked plot GB82.5, South Section along with four other persons.
However, thanks to Ann Marie Bennett, a descendant of the Coles of 22 Lower Buckingham Street, we have learned the plot was purchased in August 1922 by James and Julia Cole to bury their eldest son Sean Cole (19). He was an anti-Treaty Na Fianna lad murdered along with Alf Colley by Free State agents at The Thatch, Whitehall, Dublin.
On investigating the plot records with Glasnevin Cemetery's office, Ann Marie made an extraordinary discovery. Mahon Lawless was not buried there after all. That had been the original intention, but the hardcopy register shows the burial order was cancelled. The online record is incorrect.
As a result it seems Mahon was really interred in Rowlestown with his relatives. So, once again the Fingal lads updated the headstone!
Thankfully, one other memorial to him is not in any doubt. Mahon's name has been included with the other eight Custom House victims on a new memorial wall erected in the grounds of the building.
Final Echoes
There is another strange postscript to Mahon's story. His British war medals were duly sent to his family in November 1921.
Although the lad was dead and buried 6 months, some family member entered the signature 'M. Lawless' on an acknowledgement card returned to confirm receipt of the medals. Final tokens and keepsakes for the family to remind them of their lost eldest son?
Mahon's surviving family returned to Ireland from Essex after Independence and set up home in south Dublin. His youngest sister Aoife married Maurice Brennan a Corkman who'd fought in 1916 and the Tan War and became a founder member of Fianna Fáil. He had been co-owner with Peadar Clancy of the Republican Outfitters in Talbot Street, Dublin. Another sister Úna's husband had a memorable patriotic name – Hubert Wolfe Tone Kearns.
When Mahon's father Peter died in 1938, only two years after his retirement from Customs, one obituary recalled the death of his son at the Custom House in 1921 (even if the circumstances shown were incorrect). Mrs Hannah Lawless lived until 1946. It was a sad irony that her lost son Mahon, the only Lawless in the extended family to die a violent death, had not been an active participant in the Irish Revolution.
RIP
Des White
Footnote
It has emerged that a first cousin of Mahon's, Cormac Lawless, died building the Burma Railway for his Imperial Japanese captors during WW2 in totally inhumane conditions (depicted in the film The Bridge Over the River Kwai). Aged 23, he was captured while serving as a Warrant Officer/Flight Sergeant with the RAF's 206 Squadron on the fall of Java (then part of Dutch East Indies, now Indonesia). Cormac, the son of James V. Lawless (a brother of the T.D.) and Mary Dowling, died from cholera on 9 July 1943 in Hintok Valley POW Camp No. 1, Thailand. He is buried in Kanchanaburi War Cemetery with an Irish blessing on his headstone (With thanks to Peter Rooney, the member of the extended Lawless family mentioned above).