We have often been blessed with good weather for the annual Commemoration and last year's 97th Anniversary was no exception.
On a lovely sunny day, events commenced with Piper Mark Toner of the Dublin Fire Brigade summoning all the participants to the memorial statue of Eire. Gary Deering, Chairman of the Commemoration Group, welcomed everyone and introduced the wreath layers for the day.
The first wreath, commemorating the volunteers, was laid by Liam Flynn and his niece Marie Therese. Liam is a son of Anthony Flynn, who took part in the Custom House attack, and both Liam and Marie Therese gave eloquent speeches of remembrance.
The second wreath, in memory of the civilians killed, was laid by our own Des White. Des, who has undertaken terrific research into each of the civilians, gave an excellent summary of the four individuals and how they came to be casualties on the day.
Before availing of the refreshments, which were very kindly provided by the Custom House, there was time for the annual group photo taken, as always, by Gerry Cassidy.
A special feature of the day was a large canvas photo montage, arranged by Gerry Cassidy, displaying the images of many of the Volunteers. This was a huge undertaking and we are not yet finished. If you have any photos of any of the Custom House Men, we'd love to hear from you.
Gerry also very kindly arranged to have individual photographs available which were very well received by many of their descendants.
Another first for 2018 was that we were very fortunate to have the day's events professionally recorded by Joe Lee who succeeded in capturing both the event itself and the spirit of the day in the attached wonderful video. Joe is related to Patrick 'Specky' Griffin, one of the men arrested at the Custom House in 1921.
Joe Lee Video of 2018 Commemoration
Thanks as always must go to Sean Hogan and the staff of the Custom House who support and facilitate our Commemoration each year.
Arrangements for this year's event will issue shortly, but below are some further images from last year to whet your appetite!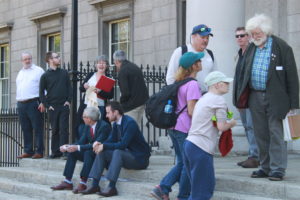 Photo Credits – Various, but primarily thanks to Ryan Deering
Liam Grace