The next emigrant Custom House Man we will look at had a second surprising claim to fame, of a sort.
Republican John 'Jack' Doyle was the son of a policeman. That wasn't unique among the Custom House Fire Brigade. But he surely was the only one of them who was granted a patent. In 1939, while working as a Dublin Busman, he designed a stiffener for shirt collars, important in men's fashion of the day. An unexpected talent for a member of an interesting republican family?
Origins
Jack, born on 11 March 1902 in Cartrons, near Keenagh, Co Longford, was among the youngest of 13 children – all of whom survived to adulthood. Their parents were Patrick (a Kerryman in the RIC) and Mary Carey, a Leitrim woman. The Keenagh area is today famed for the Corlea Iron Age trackway and ghost housing estates. Back then it was a quiet rural village.
The Doyles moved to Ballymahon before 1911 and lived in Co Longford till at least late 1916 when the father was pensioned from the police. Shortly after, they relocated to Dublin at 111 Philipsburgh Avenue in northside Fairview.
Military Service
In his pension application, Jack claimed to have joined Na Fianna, O'Donovan Rossa Sluagh in 1917 at the age of 15. The following year he transferred to IRA B Company, 2nd Battalion and in early 1920 became leader (Sergeant) of 2 Section under Capt. Thomas Kilcoyne and Lieut. Bill Stapleton.
However for military pension purposes Doyle's service was recognised only from 1 April 1919. But it extended to 30 August 1923, spanning the War of Independence, Truce and Civil War.
Jack's War
During the Tan War he said he participated in operations such as:
the burning of Raheny RIC Barracks in early April 1920 (but is not named here – http://sinechara.blogspot.com/2015/07/the-burning-of-raheny-ric-barracks.html);
ambush on military cars outside the Archbishop's Palace, Drumcondra;
the unsuccessful attempt to lure Auxiliaries into a major 2nd Battalion ambush at Amiens Street Railway Station;
a bomb attack on Auxy tenders at Clonliffe Road;
the ambush at Whitehall; and
the Burning of the Custom House. For this operation he appears to have worked, with Tom Kilcoyne and others, on acquiring the paraffin.
His part in the Clonliffe Road action was confirmed in a reference from Bill Donegan, a fellow Custom House man who was also involved in that ambush (but had taken the opposing Civil War side).
Doyle stated he also took part in raids for arms and supplies, enforcing the Belfast Boycott and police duties and armed patrols in the Drumcondra, North Strand and Ballybough areas.
He says B Coy's resources were strained in late 1920/early 1921 owing to loss of men assigned to the ASU, though casualties and arrests and a fall-off in active members. He went on the run in the winter of 1920 "as a precaution and under orders".
Heavy Workload
Jack seems to have also been involved with organisation and logistics work, "to the point of exhaustion" as he puts it. He was always under arms, would hold weapons for distribution, warn Company members of raids and arrange safe houses in addition to combat operations. Doyle says "So hard pressed at times I was with work, that I had to rely on my young brother who was then a schoolboy and my sisters to help me in many of my volunteer duties".
He tells us that Company Sergeants like him necessarily took on extra responsibilities following GHQ orders that officers were to avoid taking undue risks in the field. Doyle says he also assisted the Squad with intelligence and other support services, quoting Bill Stapleton as a man who could verify that. A cynic might say Doyle exaggerated his activities to some degree for pension purposes. Yet his account does give an insight into the commitment required to have been considered an active volunteer. After all, he was not a full-time paid IRA fighter like the ASU or Squad and may have also had to work for his living at the same time.
In any event Jack Doyle's field activities ended with his arrest at the Custom House Burning. Before his release in December 1921 he was pictured with fellow prisoners. This is the only photo of him we have found.
Civil War
The following year, 1922, Doyle was one of 21 men of B Coy who took the Republican side in the IRA Split. He said he spent a few days helping fortify the Four Courts as the anti-Treaty IRA Executive HQ during its early stages.
On the outbreak of Civil War hostilities, he was in the Hammam Hotel and then the YMCA building, on the other side of O'Connell Street.
He became a prisoner again, this time of the Provisional Government.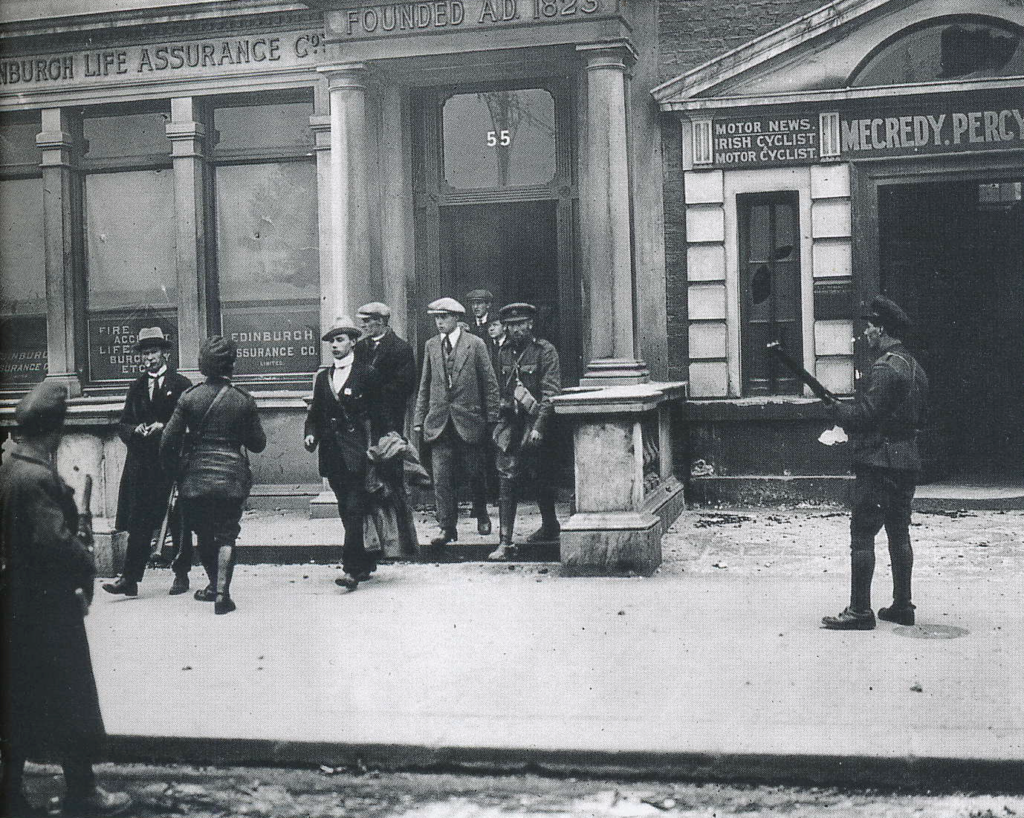 On 4 July he was one of 85 anti-Treaty men interned in 'B' Wing of Mountjoy Jail. Doyle says he later took part in a 4-day hunger-strike there.
In January 1923 he was transferred to the detention camp in Newbridge, Co Kildare until freed at the end of August.
Military Pension
As an anti-Treaty adherent, Doyle was not eligible to apply for a military pension until 1934.
Most of his referees were other anti-Treaty figures like Frank Henderson, but about one Tan War event he did call upon an old Custom House comrade who'd taken the Free State side. William 'Bill' Donegan, then a Garda Sergeant, obliged with a reference vouching that Doyle had been at the Clonliffe Road ambush with him.
Doyle was awarded a pension based on 4⅞ years' service at E Rank for pension purposes in 1936. He unsuccessfully appealed over the length of service recognised and ended up with an annual pension of £24-7-6.
Jack worked as a Busman in Dublin and stayed living on Philipsburgh Avenue with his parents and some of his siblings. While there, he invented the collar stiffener mentioned at the start of this article.
The Doyle Family
The father Patrick died in 1936. For an unremarkable ex-RIC man, there were some very interesting – and surprising – names among the large attendance at the funeral. Press reports revealed the reason.
Notable among the attendance were – Fianna Fáil Senators Kathleen Clarke (widow of Tom Clarke) and Denis Healy; Fine Gael Senator Michael Staines (First Commissioner of the Civic Guards); Gerry Boland TD (Brother of Harry), Minister for Posts & Telegraphs; and the serving Garda Assistant Commissioner.
In August 1941 Jack Doyle married Kathleen Fitzgerald from Manulla, Ballina, Co Mayo in Whitefriar Street church, with his older brother Patrick as best man.
Patrick was a Garda Chief Superintendent who had served in Co Mayo and other western counties since the foundation of the Civic Guard in 1922. He had to overcome major challenges in applying the laws of the Free State in rural areas. Over the years his name features in many prosecutions from murders and land disputes to illicit distilling. Patrick was later based in the Phoenix Park Depot before retirement. He died in 1970 in Clondalkin, Dublin.
Press obituaries say he was a member of the Boland's Garrison in 1916. Of the 3 men with that name on the Roll of Honour, it is likely he is the man from B Coy, 3rd Battalion. There is no pension file online for him. However, Boland's Commandant Dev was represented at his funeral.
Jack and Patrick's brother Michael became a Confectioner in Wexford Town and married in 1930.
The youngest Doyle son was Leo, later known as Leon Ó Dubhghaill. He was a leading Conradh na Gaeilge officer who revived An tOireachtas Feis in 1939 and became organising secretary, then president of the competition. A school principal, he dropped dead in his office at St Finbarr's, Cabra in 1967. The President and Taoiseach of the day were represented at his funeral.
Jack's other brothers were Jeremiah and Frank, a barman who died at the family home in 1987 after some years in London and who seems to have been the last of the Doyles to live on Philipsburgh Avenue. They had seven sisters – Johanna, May, Lavina, Agnes, Florence, Georgina and Martha (Daly). Known about them:
Johanna worked as a Poultry Instructress (there's an old-fashioned term) in Monaghan for 47 years and was well known around the county. She retired to Dublin, dying in 1966.
May worked for many years in the National Yacht Club, Dun Laoghaire as assistant Manageress (another outdated term). As an active republican she was imprisoned in 1922. Old Cumann na mBan was represented at her funeral in 1957.
Lavina passed away at 111 Philipsburgh Avenue in 1975.
Agnes worked in The Victory Cafe before her death in 1985.
Florence became a nun, Sister Mary Florentine, based in a convent in Co Armagh. She passed away at the family home in 1982.
Martha, the youngest, married a Bill Daly in 1945 and lived until 1997.
Remarkably, all 13 of them had survived their mother Mary who had died in 1954 aged 88. On that occasion, yet another press obit detailed some of her children's parts in the independence struggle – including Jack.
Later Years
Jack himself had moved to 3 Iveleary Road, Whitehall after his marriage. By 1954 he had shifted to London. Nothing is known of his time there other than several addresses in W10, W11 and three streets in Clapham, SW4. It appears he and his wife had a son and daughter there and he did factory work. Over the years he was reported in the papers at funerals of his siblings back in Dublin.
In 1967 Jack Doyle and his wife retired to Boscombe, part of the city of Bournemouth on the south coast of England. Kathleen died there in July 1983 to be followed only months later by her husband, on 29 October. A Coroner's Inquest found it was a case of accidental death (no further details as yet). He was aged 81 and, according to his pension file, left surviving children.
A Quiet Passing
Ironically after all the previous press obituaries for members of his family, in Jack's own case there was none. His passing went unreported by Irish newspapers. Possibly a symptom of the times, when 'political correctness' over the northern Troubles banished mentions of Old IRA men from the 1920s? Yet Jack had played his part during that revolutionary period, something the Irish media had been happy to indirectly acknowledge in previous decades.
Thankfully today in a more peaceful era we can unashamedly – and hopefully without offending anyone – pay a small tribute to one of the men who burned the Custom House almost a century ago.
RIP Jack Doyle, Section Leader, B Coy, 2nd Battalion of the Old Dublin Brigade.
Des White
EXTRA – Names in photo, as promised above.