Marlborough Hall
Although not directly linked to the Burning, this facility on St Mobhí Road, Glasnevin features in the stories of several Custom House Men.
Beginnings
The building was designed by Kerry-born architect James Franklin Fuller (1835-1924) among whose other works were the far better known Farmleigh House, Ashford Castle and Kylemore Abbey.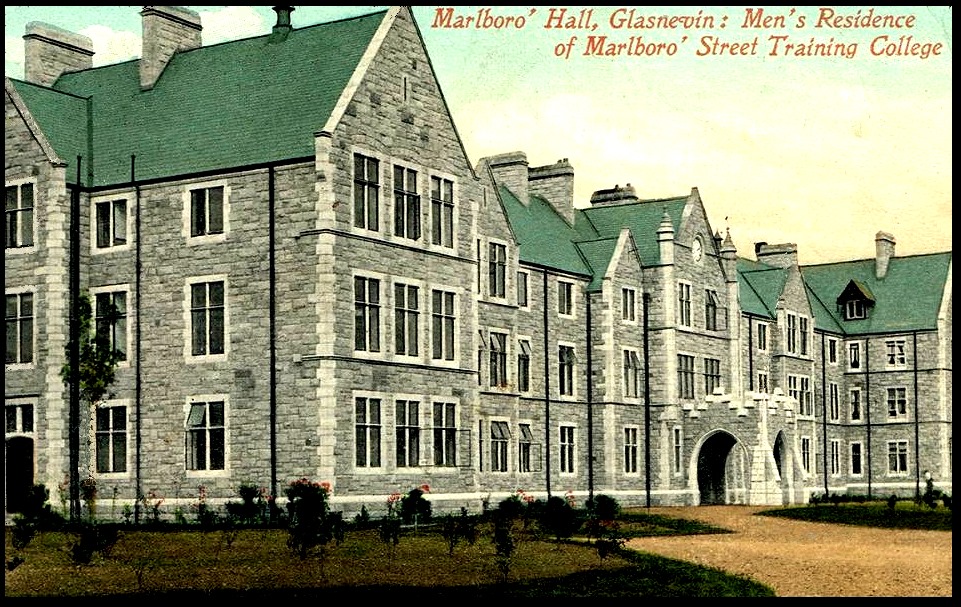 It opened in 1908 as a college and residence for male students (called 'King's Scholars') of the Marlborough Street National Teacher Training College in the city centre. At that stage Mobhí Road had not been built and the college was surrounded by acres of grounds and open countryside. An official report called it "a healthful locality" in comparison to what they termed the former congested and unsanitary location in the inner city.
For various reasons student numbers declined and WW1 really brought things to a head. In 1917 Marlborough Hall ceased as a teacher training college.
Military Use
In April that year the British War Department took over the establishment for use by the Irish Counties War Hospitals Committee. It was officially opened by the Lord Lieutenant in July as a convalescent home for sick and wounded soldiers, staffed by the Royal Army Medical Corp. Many patients were transferred from KGVH.
During the Tan War the military continued its previous use and also garrisoned troops there. There are unconfirmed suggestions that Auxies may also have been based and hospitalised in Marlborough Hall.
Irish Army Takeover
The facility was vacated by the East Surrey Regiment on 10 February 1922 and handed over to the Provisional Government Army which initially used it as a Barracks with a small convalescence facility. It was the location for the first Trooping of the Irish Army Colours on St Patrick's Day 1922.
The Hall and its extensive grounds were used for training Irish troops.
Tragically, a fatal accident occurred in the facility on 21 April 1922. The victim was Henry Mulhall (20), described on his death certificate as "Private, IRA". He was in a group watching a comrade demonstrate how to use a revolver. The gun – thought to be empty – went went off and the round hit young Mulhall in the head. A horrified juror at the Inquest commented: "It was a stupid business altogether; young fellows were losing their lives all over the country". He added "it is disgusting. There were not so many chaps shot as when they had the Back & Tans, as there are now". The jury did, however, exonerate the unfortunate shooter.
Refugees
That Summer the building became temporary accommodation for northern Catholics fleeing the Belfast Pogroms. On 7 June, 500 people who had fled the north were moved into the facility from their former locations in the Fowler Hall and Kildare Street Club. Army cooks volunteered to feed them and entertainments were also laid on for the refugees.
Army Convalescence
The building was then converted to exclusive use for recovery by sick and wounded Irish military men. During and after the Civil War, National Army and some pre-Truce IRA recuperating from surgery on wounds or the aftermath of sickness were housed in Marlborough Hall. An expert artificial limb supplier set up a practice there to cater for soldiers who had lost arms or legs. The Irish Independent commented after a visit in September 1922 that "It was in fulfilment of the ardent desire of the late General Collins that this Home for convalescent National soldiers was established".
The listing of men at Marlborough Hall for the 1922 Army Census is here. Included are medics, other staff functions, guards and patients. Custom House Man George Gray can be found on the register. He may have been there because of TB, a legacy of his time in Kilmainham Gaol, which killed him the following year. Also present was Patrick McGlynn (described as 'Old Volunteer, 2nd Dublin Brigade') who had a foot amputated after being wounded at the Burning.
A third Custom House Man is known to have recuperated in Marlborough Hall. Tom Flood suffered a gunshot wound to his leg on duty in Co Kerry. He was transferred to the Hall from the Curragh Military Hospital in December 1922.
An ancillary building added to the Marlborough Hall complex in 1915 found a new use as a morgue during the military occupations (It is now part of Scoil Mobhí Irish language Primary).
Back to School
In 1926 the main Marlborough Hall building was transferred to the Department of Education and renamed Coláiste Caoimhín. It operated as a preparatory school for those intending to qualify as Irish language teachers. The Christian Brothers ran it until another change of use in 1938.
Army Pensions
From the beginning of The Emergency in 1939 the building reverted to the Department of Defence and went on to be used for many decades as offices by their finance and other sections. Military pay and pensions – including Old IRA Pensions paid to many Custom House Men – were processed there. This writer recalls Maurice Christie, a late uncle who worked in Coláiste Caoimhín, mentioning famous old names from the War of Independence, some of whom he met and others whose files crossed his desk. Those Dept. of Defence functions were decentralised to a new office at Renmore, Co Galway in 1989.
In 1990 the Department's secretariat moved into Coláiste Caoimhín from Parkgate Street. From 2008 they began to be relocated yet again to new offices in Newbridge, Co Kildare and within a couple of years were all gone.
Full Circle
As of 2014 the building is home to Whitehall College of Further Education, a return to its educational roots.
The facility is an excellent illustration of how to usefully re-purpose old buildings, given its multiple uses over the past 112 years. A good example and case study for other historic sites like it sitting idle while new monstrosities are needlessly created around Dublin?
Des White
Acknowledgements – Glasnevin Heritage on Facebook, Tony O'Doherty and J. A. Foley (author of a 1988 history booklet).