Books and articles have been written about many Old IRA personalities. But uniquely a 2004 novel used the former address of one Custom House man for its title. The author of "11 Emerald Street", Hugh O'Donnell, had undoubtedly never heard of a previous resident, Richard Downes, Old IRA. And the latter never got to read the book which appeared more than 40 years after his passing in the USA. A great pity, because it would surely have brought back memories of living in his old neighbourhood in Dublin.
The former Dublin Brigade Volunteer and National Army Lieutenant also left his mark in his adopted homeland. Leading to his name being mentioned in books about the US Labor (trade union) movement.
A tribute by his old trade union published on his death recalled his contribution to battles for their cause. But there was no such recognition in Irish papers of his part in the bloodier campaign for the independence of his homeland.
Origins
Richard Michael Downes was born on 12 May 1903 in the rural townland of Balcunnin near Loughshinny, north Co. Dublin.
He arrived as first of 8 surviving children of Thomas, a Farm Labourer and Bridget née Corr. By 1911 the parents and their eldest 3 children had moved to Ballykea (B above), nearer the coast on the east side of the Dublin-Belfast railway line.
A prominent landmark on the flat countryside probably familiar to the Downes was the disused Great Windmill of Skerries (now restored). The kids attended school in nearby Loughshinny where their parents had originated.
The Young Activist
Family information is that after 1911 Richard was sent to Dublin to be looked after by the Roches of 11 Emerald Street, off Seville Place near the Docklands. They may have been family friends or even relatives. In any event, the teenager was based in the actively nationalist St Laurence O'Toole's parish, the heartland of E Coy, 2nd Battalion, Dublin Brigade IRA.
Associated with the local O'Toole's GAA club were notables such as Tom Clarke, Sean MacDiarmada and Sean O'Casey. Other lasting influences on the teenager were an admiration for James Connolly, executed 1916 Proclamation signatory, deputy head of the Irish Transport and General Workers Union and leader of the ICA; and the head of his household, Michael Roche, who was an active trade unionist.
Becomes an IRA Volunteer
It is not certain when Richard joined up with E Coy, but as an eighteen year old he took part in the Custom House attack. He would have been on duty in the building, helping to break up wooden furniture and pile up papers to be doused with paraffin. Downes ended up being captured and spent until 8 December 1921 with his comrades in Kilmainham Gaol. He appears in Cyril Daly's autograph book.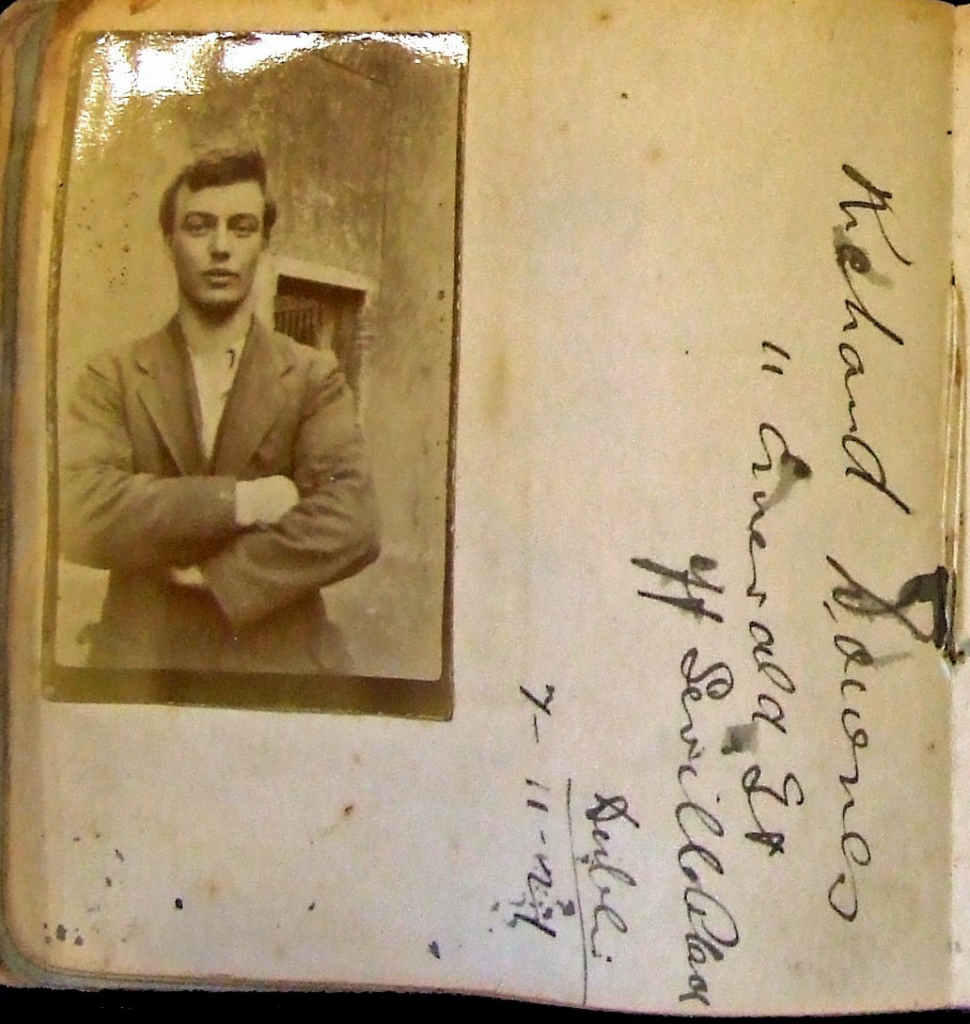 Civil War Campaign
After release he rejoined his old unit and on 2 February 1922 was among the first to enlist in the National Army at Beggars Bush.
He was made a Lieutenant in the Dublin Guard and during the Civil War served in Paddy O'Daly's Southern Command in Co Kerry.
Richard is listed in the Army Census at Killarney (on the same page as O'Daly and fellow Custom House prisoner Tom McKenna).
The National Army commandeered the Great Southern Hotel near Killarney Railways Station as a barracks and HQ.
A group photo taken outside the hotel at the time includes Lieut. Richard Downes alongside his comrades and some of their transport (Note the sandbags above the sign and the two kids cheekily posing above them).
As many Readers will know, Kerry was the scene of many fierce and bitter engagements between the local IRA and National Army. Some notorious atrocities were carried out, overwhelmingly by the Provisional Government's forces.
One sad incident memorialised outside Downes' HQ involved the death of a young Republican prisoner, Bertie Murphy. Allegedly while in custody in the Great Southern Hotel. Or in an ambush on a Free State patrol vehicle in which he was being carried as a hostage. An NGA plaque commemorating the lad is notably silent on how he died.
However, there is no evidence or suggestion that Lieutenant Downes had any part in those events. Yet, his surviving daughter still agonises about those times for her father, as we shall see below.
Romance Blossoms
Richard did, however get involved in something far removed from killings and torture. He fell in love with a local girl from Barry's Lane, Killarney, Maria Clifford who worked as a barmaid in the officers' mess in the military barracks.
In some ways it was an unlikely pairing, one a Stater, the other from a strongly anti-Treaty locality. Richard's last surviving daughter Brenda Downes Abel says "When my mother told her family that she was marrying my Dad, her uncle called him a 'killer'". Apparently Downes had to defend his fiancé against verbal abuse over her pro-Treaty views. With those kind of attitudes around you might say he was a very brave man to get married in such a prominent place as the Cathedral in Killarney!
There is no military pension application online (yet) for Richard Downes, so it is not definite when he left the Army but it was very shortly before he married Maria on 1 June 1924. He was recorded as "ex-Soldier, Free State" from St Laurence O'Toole Parish, Dublin. The couple moved to Dublin to set up home and begin a family. It is understood he worked as a Motor Driver. A son Tommy was born in 1925 followed a year later by a daughter Nellie.
Emigration
Then came the biggest move of the young Downes family's lives. They took the major decision to emigrate to the USA. On 4 December 1926 Richard blazed the trail, sailing from Liverpool to New York on the SS Megantic.
There were many other Irish passengers on board, the majority of whom gave Irish Free State as their country of citizenship. A few – Richard Downes included – stated Great Britain. Seems strange for an Old IRA man.
More importantly, it must have been a huge wrench for the family to separate, especially so close to Christmas. But such were the economic realities for many Irish in those times of low employment and few prospects at home.
He arrived safely at the address of his named friend Peter O'Brien of Flushing, NY, with $75 in his pocket. Downes got a job cleaning subway carriages with the privately-owned Interborough Rapid Transit (IRT) line where many Irish emigrants and Old IRA worked. By August the following year he had saved enough to send home the fare to bring his wife and kids over to join him at an apartment on East 97th Street, New York City.
In 1928, a second son Dennis arrived to Richard and Maria. The little lad appears with his family in the 1930 census in the Bronx but he sadly died from meningitis two years later. His dad Richard was still working with the IRT.
Boom, Bust, Boom
Not too long afterwards, the Downes suffered more economic hardships with the impact of the Great Depression after the Wall Street Crash of 1929. The promise and fruits of the Land of Opportunity had turned sour and Richard could get only occasional odd jobs such as painting apartments. Back to Ireland sailed the family, returning to Emerald Street. The two children went to St Laurence O'Toole school.
However, nothing had changed economically in Ireland in the years since they had left. On top of the effects of the Depression came the fall-out from Dev's Economic War with Britain. The Downes family decided to give the USA a second try and left Ireland again in 1936. This time things worked out much better. Richard was able to get back again to his old job in the IRT.
Activist Once Again
By the 1940 census the family had added a daughter Maureen Brenda and were living in the Bronx. Another big change was that Richard had taken on extra responsibilities as an Organiser with the Transport Union of America. He would be a leading official with "America's Fighting Democratic Union" for the next 20 years and more.
The history of the TWU AFL-CIO is way beyond the scope of this article. Briefly, it was set up in 1934 by Mike Quill, an immigrant from Kerry, to represent New York transit system workers being exploited by the private owners. Irishmen, among them Richard Downes, were the prime movers behind the TWU.He rose to become an international Vice-President.
The relationship between Downes and Quill was, putting it mildly, not great. Brenda Downes Abel says that Quill hated her father.
Mike Quill was a great orator, labour leader and civil rights activist who achieved many good things. But he could be divisive and a ruthless and autocratic type who thought little of shafting colleagues. He took up and dropped external affiliations, e.g. with the American Communist Party, to suit his ends and bend the way political winds were blowing.
With Richard Downes, Mike Quill had a personal issue. Quill put it about that his own limp was a result of the Troubles in Ireland (1919-1923). Downes, being a veteran of the Tan and Civil Wars, knew that was not true – it was a birth defect. Quill greatly resented Downes being aware of the truth and it created a barrier between them. Quill tried, unsuccessfully, to block Richard's election as TWU Vice-President in 1948. This, a writer noted, made Downes one of very few to ever oppose Quill and win.
Workers' Rights Campaign
The TWU went on to expand way beyond the subways of New York, representing workers in many other transport, utility and various industries around the USA.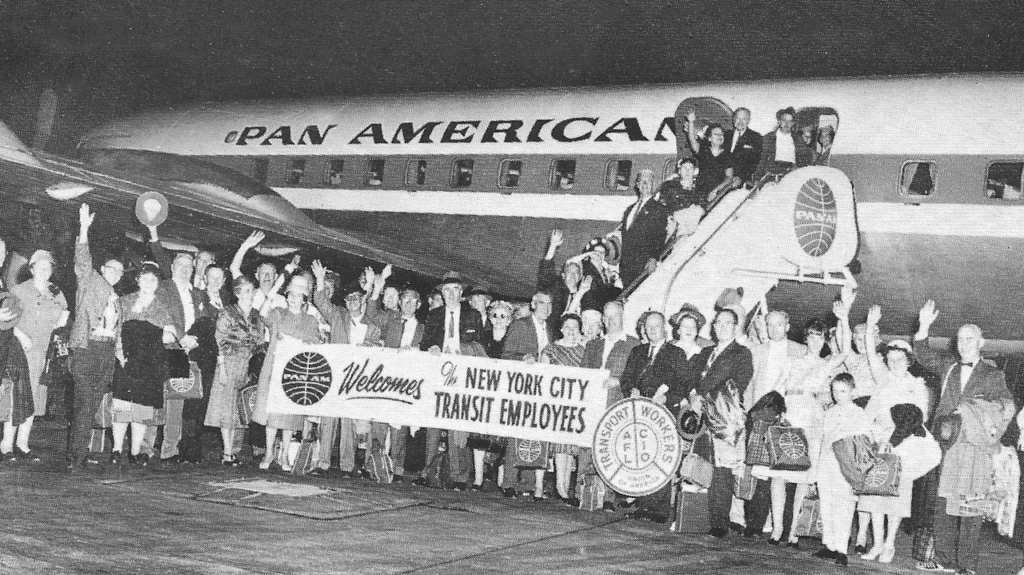 One was the airline sector where Richard Downes spearheaded the drive to get recognition for his union and recruit members in airlines and airports, particularly in the south of the USA. He is credited with making the union the first to be recognised in Miami Airport, a notable milestone of labour organisation in the southern states.
Later Years
Downes continued his hard work as a workers organiser with the TWU. He lost his wife Maria in 1958. In the 1960s his widowed mother Mary Bridget sent word she wanted to see him (His father Thomas had passed away back in 1938). Richard made two visits back home to stay with his mother at Ballykea and did up the family house before she died at the great age of ninety two in 1968.
He himself had not long to live, having developed lung cancer. His daughter Brenda stayed with him for three months in his last year. She believes "he lived a very committed life and I think he genuinely cared about social justice". But towards the end he had grown disillusioned about creeping greed and corruption on several levels within the labour movement. After all, he and other TWU pioneers had started with the simple ideal of an honest day's wage for an honest day's work.
The Family Man
Richard Downes was not a tall man, standing just 5 foot 4. He had brown hair, blue eyes, a fair complexion and (in 1936) weighed about 170 pounds (77kg). Brenda recalls he was a quiet, even-tempered man. She only saw him blow his top once. But he must surely have had a driven, persuasive and strong personality to succeed in his union organising work. And been tough enough to handle the rough and tumble of US labor politics and confrontations with Big Business.
Brenda says her father did not talk about the days of combat in his youth (Although he did check to make sure his military pension arrived each month). Anything she learned about those times came from her mother Maria who was very proud of her husband's part in the Custom House attack and time in Kilmainham. But she was tight-lipped about the Civil War in Kerry. Having read up on the subject, Brenda says she would not be surprised if her father's story "might indeed be ugly"… When he visited in the 60's he said he met with a friend who still had shrapnel in his leg. He did not give a name and did not dwell on it. My feeling is that he had a reputation in Kerry and neither of them [her parents] ever talked about that period".
She also feels Richard was haunted by his war experiences in Ireland. Once, in the last stage of his life while watching a news bulletin on the Vietnam War, he commented "No super power could prevent a people from winning such a war. Even the children in the streets will have hand grenades." He had learned that himself at first hand, on the streets of Dublin decades before, fighting with his own people against another super power of its day. Then on the by-roads of Kerry in a tragic war among those same countrymen.
Richard Downes had to give up the fight himself on 11 January 1970 when he passed away in Tuckerton, New Jersey at the age of 66. Late of the Bronx and Bardonia, NYC and formerly of Emerald Street and Loughshinny, he was survived by his son Thomas and daughters Mrs Helen Tanner and Brenda. He was laid to rest beside his beloved wife Maria in Gate of Heaven Cemetery, New York (Also the burial place of his old rival Mike Quill). Safe with Richard Downes in his coffin is his 1917-1921 Service (Tan War) Medal. Brenda says she regrets that gesture now.
Her brother Thomas served with the US Navy in World War II and, having dual citizenship, later moved to Ireland. He died in 1995 and is buried near Newmarket-on-Fergus, Co Clare.
Richard's eldest daughter Nellie is buried in North Jersey, USA. His surviving daughter Brenda Downes has one son, Donald. She was widowed in 2019 after many years together with her late husband, Lt. Col. Don Abel. He was afforded full military honours at the famous Arlington National Cemetery as a Vietnam veteran who served on helicopters as a chaplain in the combat zone.
Back in 2010 the family had visited Kilmainham Gaol where Richard Downes was interned in 1921. Brenda says her husband and son were highly impressed. And the latter finally believed his mother's stories about his grandad Richard's part in the Irish liberation movement – but had no idea it was such a big deal!
Today, Richard Downes' grandchildren and great-grandchildren make up the three generations of the family living in the USA.
Conclusion
There was no tribute, even in print, paid in his own land to Richard Downes on his passing 50 years ago. The independent Ireland he fought for turned out on two occasions to be no country for him and his family. And proved that, too often, the state's memory of Irish war veterans can be selective and short-lived.
Ireland has also proved fickle when it comes to the rights of her working people, despite the ideals of the 1916 leaders and 1919 Declaration of Independence. Richard's battlefield in that war – never-ending to this day – turned out to be his adopted country, where he earned some due recognition.
Hopefully his native land will not forget his life spent striving for just causes. RIP.
Des White
Sincere thanks to Brenda Downes Abel for key family insights and photos included above.