He grew up on a street named after an English county and went on to live and die in another one in England. From inner city Dublin, life took Thomas Maguire from captivity by the Ould Enemy to working there during another wartime. Perhaps surprisingly, such an experience was not unknown among Old IRA men. Even among Custom House Men we have seen a similar story with Phil Flynn.
However there is one major difference in Maguire's case, as will emerge.
Origins
Thomas Henry Maguire was born on 16 April 1902 in no. 45 B-Block, Buckingham Buildings, Upper Buckingham Street in north inner Dublin city. Named after his father who was employed in the Gas Works, his mother was Catherine nee Carroll. They were both Dubliners. There were at least six children, a mix of boys and girls. Thomas was the second oldest,.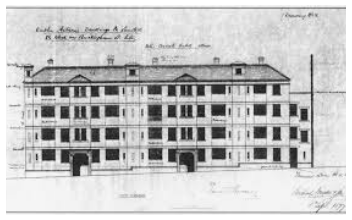 Unusually for city folk in those days, the Maguires stayed living in the exact same home from 1901 to at least 1936. The residents of the flats in Buckingham Street formed a close-knit community. Thomas was aged 19 and still living at home when he was captured at the Custom House. He went on to spend 6 month in Kilmainham in the auspicious company of the Custom House Fire Brigade. After release in December 1921 Maguire returned to his parents' home where his mother Kate died suddenly in 1927. He worked as a Tailor's Cutter.
On 2 August 1936 he was married to Agnes Claire Reddin at the Pro-Cathedral on Marlborough Street, Dublin city. She had been born in Manchester to Irish parents but was then living in Leeds. Her father had actually been a British soldier in Co Limerick in the late 19th century, later a railway worker in Britain.
How Thomas and Agnes met would make an interesting story. Possibly it was in England, maybe Thomas had worked there beforehand. Anyhow, after their wedding the couple soon moved across the Irish Sea. Their son Bryan was born in Blackpool the following year.
World War Two
Thomas is listed, with his wife and son, as an Aircraft Factory Storekeeper in south Manchester on the British register of residents, 1939.
Several key manufacturing plants for aircraft and aero engines were located in the city (A.V. Roe, Ford, Vickers) and it was a Nazi bombing target several times. The heaviest raid, known as the Manchester Blitz, on consecutive nights just before Christmas 1940 killed almost 700 with more than 2,000 injured. The Maguires managed to live through those events. They also had to deal with the strict wartime rationing and food shortages (which lasted until the early 1950s in Britain).
Later Years
It appears they had no more children and by the 1950s they had moved twice in the Manchester area – to Baguley and then Northolt Road, Wythenshaw. They later relocated to Warmley Road in the same locality.
Back in Dublin his family had moved to Bella Street where his dad Thomas Henry Maguire Senior passed away in 1954.
There is no further information available on the Maguires in England until 1960 when their son Bryan was married. He went on to have three children in Manchester.
The next relevant record shows that Thomas Henry Maguire died in Wythenshaw Hospital, Manchester on 10 January 1978. Aged 75, he was a retired Tailor. He was buried in Sale Cemetery (plot AJ20, Roman Catholic section). His widow Agnes went to live in the Warrington district of Manchester until her death in 1993. She was interred with her late husband.
Was he an IRA Man?
There is nothing online to confirm any military service by Thomas Maguire. His application for a 1917-1921 Service Medal was not successful.
Thomas had claimed he was a member of the Irish Citizen Army Boy Scouts from 1915-1921, from age 13 to 19. His claim to have been interned in Kilmainham Gaol we know to be true. Unfortunately for him the Department of Defence assessors did not certify his service. Although we will never know the truth, there is no reason for us to disbelieve him.
After all he did lose 6 months of his freedom as a political internee in 1921 after his arrest by crown forces at the Custom House. Perhaps that is a good enough reason to remember Thomas Maguire one hundred years later.
Des White