We are delighted to post this article, very kindly contributed by Paddy's relatives.
Family and Early Life
Patrick (Paddy) Evers was the fifth child and second son born to Joseph Evers and Mary Kathleen Brady. Both had come to Dublin from Westmeath in the mid 1880s where they met and were married in 1888 at St Andrew's Church, Westland Row. Patrick's father was a Stableman and the family set up home in 108 Lower Dorset Street.
Joseph and Mary had ten children of their own and even adopted a 'doorstep baby' when their eldest was twenty-nine years old. They lost a son named John, who was only two years of age, before Paddy was born in 1901.[1]
Following the 1901 Census Paddy and the family moved from Dorset Street to Eccles Street where they spent six or seven years. Then they went to North Clarence Street where they were living at the time of the 1911 Census.
Soon afterwards they were on the move again, to 28 George's Place (known as George's Pocket) off Temple Street. [2]
Na Fianna Éireann
It is not known exactly when or how Paddy became involved initially with the Republican movement. Family anecdotes indicate that his older sister Josephine (who ended up sharing prison accommodation with the likes of Margaret Buckley and Síghle Humphreys during the Civil War)[3] participated to some extent in the 1916 Rising. But as yet there has been no documentary evidence to support this belief. Just as plausible is that Paddy was just one of a number of ordinary young men who signed up to join Na Fianna Éireann following the return to Ireland of so many volunteers from Frongoch and other British prisons in 1916/7 who set about rebuilding the organisation.
In the 1911 census Paddy is documented as reading and writing in Irish which would indicate that the cultural revival had touched his life as early as that time.[4] Political events happening on his doorstep, like the Rising, the election of 1918, when Sinn Féin won an overwhelming endorsement by the Irish people for Irish freedom, and the execution of Kevin Barry in November 1920 could all have had a major influence on Paddy joining the Irish Republican Army.
Around 1916/1917 Paddy had joined Na Fianna Éireann. Military Archives document him serving as 2nd Lieutenant of A Company, 2nd Battalion in 1918 and 1st Lieutenant in 1919.
In Na Fianna records in the Bureau of Military History for 1920 Paddy is no longer listed as a Company officer and we can assume that either late 1919 or 1920 he transferred across to the IRA. In October 1918, the Sinn Féin headquarters in Harcourt Street had been attacked by off–duty British soldiers and Trinity College students. Paddy's A Company of Na Fianna participated in the defence of the building from rioters (as recorded by the organisation's Commandant, 1919-1921).[5]
IRA Active Service Units
Just before Christmas 1920 Michael Collins and the Brigade staff of the IRA in Dublin set up a full-time body of volunteers at 100 Seville Place to take the war to the British forces on the streets of Dublin on a daily basis. This group of men (around 50 in all), were broken down into four sections of 10 to 12 and were called 'Active Service Units' or ASU. Paddy along with Tom McGrath, George Gray, Jim Heery, John Muldowney, Joe Gilhooly, Billy Doyle, Christy Fitzsimons, Bill Gannon, Bob Purcell, Joe Gillan, Paddy Drury, Jack Caffrey and Jim Cahill were in the 2nd Battalion element named No 2 Section of the ASU.[6]
Attacks by No. 2 Section
Early in January 1921 Paddy's No 2 Section and No 1 Section combined for a 'tester' ambush against a couple of lorry loads of Auxiliaries to determine their method of response to the ambush. Grenades were thrown at two enemy vehicles on the quays near Bachelor's Walk and escape was made through an auction room out onto the North Lotts.
Jim Cahill, a member of Paddy's ASU Section recalls that the quays seemed to be the section's most preferred area for attack. He said that "groups of three or two men took up position at three yards intervals….[and] on the approach of the enemy moved onto the footpath and attacked at point blank range". He went on to say that they inflicted a number of casualties on the enemy suffering none themselves. Their main targets became the Auxiliaries and the British 'Murder Gang'. In one attack on Ormond Quay he "estimated that we killed or wounded half of their number. After that ambush the Gang ceased to play an active part in the struggle".
On one occasion, unknown to the ASU, members of the Squad were playing cards where they had their arms dump in Middle Abbey Street. Vinny Byrne recalls that when all the explosions and shouting started up they thought that they might be under attack. Tom Kehoe sent him down to see what was going on. When he opened the gate of the premises he saw a British Tommy. On asking him what was going on the Tommy replied "Those bloody Shinners ambushed us!". Vinny records in his Witness Statement that he informed the soldier he had to close the gate and get back to work in cases his boss was looking for him. He said later that he heard it had been the ASU attacking the lorry on Ormond Quay.[7]
Paddy was involved in over a dozen attacks over a five month period at Summerhill, Blessington Street, North Frederick Street, Denmark Street, Parnell Square (Rutland Square at that time) and out in Killester – all with No 2 ASU.
Joe Gilhooly gives a very good account of an attack on the Black and Tans at Beresford Place. The attackers, including Paddy, George Gray, Jim Cahill and Christy Fitzsimons, were stationed at the corner of Abbey Street while another group was across the road under the bridge at the Quays. As the lorry sped around onto Abbey Street all the men were able to lob some grenades at the lorry. The Tans responded by firing a number of shots which resulted in five civilians being wounded.[8]
Customs House Operation
Christy Fitzsimons, who was a member of Section 2 A.S.U. with Paddy, records that on the day they were to enter the Custom House, round up any guards and staff and assemble them in the backyard known as the quadrangle. He says four policeman who were going to lunch were ordered to the yard and did not resist, while other members of the section rushed all over the building rounding up staff. Just one person, the Housekeeper, resisted and he was shot dead.
Having secured the building, the operation of burning the building started and it was not long before the Custom House was up in flames. It didn't take too much longer for the British forces to arrive on the scene and a number of gun battles erupted both inside and outside the building. With the building turned into an inferno and the British surrounding it on all sides,
Paddy and his comrades got rid of their weapons and decided to try and get away by mixing with the staff. Christy recalls that he and some others were segregated on the quayside and then brought to Dublin Castle where they were interrogated for three days "[and] "suffered pretty severe handing from the Auxiliaries". Paddy was lucky to miss that Castle experience. He ended up with the main body of prisoners brought to Arbour Hill for a few weeks before being transferred to Kilmainham Jail.[9]
In the prison, Paddy and the others would be brought out four or five times each week for identity parades where witnesses would review them. In this way the authorities hoped to associate individuals with past IRA actions so that they could be charged.
At 11 o'clock on the morning of the Truce, charge sheets were to be given to up to 83 of the prisoners but they refused to accept them knowing that the Truce would be effective from noon. Later that day they were informed that they were now POW's. Christy's account shows that they were held in Kilmainham Jail until November 1921 (it was actually December) and the General Amnesty for interned political prisoners.[10]
Post-Truce and Civil War
Paddy was a member of the first unit of the Free State Army that took over Beggars Bush Barracks from the British Army on Tuesday 31 January 1922. Members of the Squad, Intelligence Section and A.S.U formed the core of this unit, named the Dublin Guards Company.
With the start of the Civil War, Paddy and a few of his company took the Republican, anti-Treaty side.[11] On 1 July 1922 (The "Second Critical Date" for military pensions) Paddy is recorded as being on the roll of D Coy, 2nd Battalion, Dublin Brigade IRA.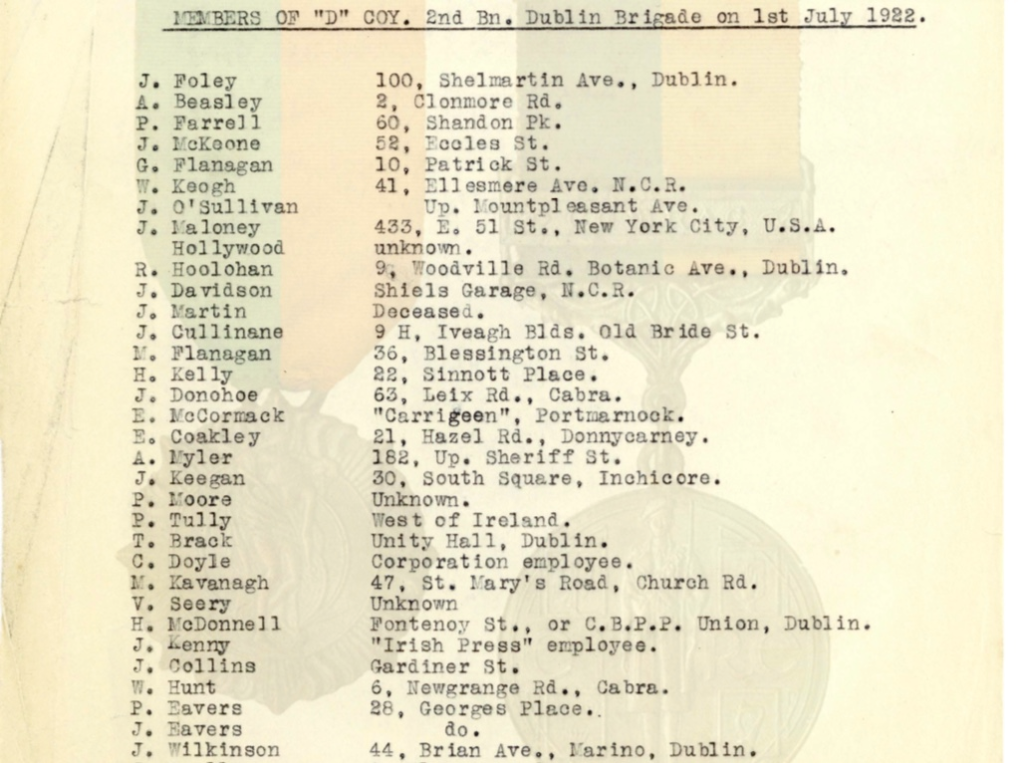 His military pension record card shows that he was an acting Lieutenant. His involvement at this stage shows that he would have been involved in the Battle of Dublin. Although the main fighting ended after a number of days resulting in the defeat of the Republican anti-Treaty forces, Paddy and his comrades continued to make attacks on Free State forces.
In August 1922 Paddy was arrested and detained at Mountjoy Jail on 15 September 1922. He was transferred via Newbridge to the Curragh and interned at Camp B, Tintown. The continued detention of anti-Treaty prisoners by the Free State following the end of the Civil War saw prisoners stage a hunger strike which began in October 1923. Paddy was released on 11 October 1923. The hunger strike ended in late November 1923 and most of the other prisoners were released shortly afterwards.[12]
Peacetime Life
Paddy Evers and the family moved from George's Place to number 5 Grantham Place in the early 1930s. He never married and found work with Dublin Corporation over many years. He was best man at his sister Alice's wedding in 1926 when she married a former comrade of his, Sean Nolan, who was also a Custom House Fire Brigade man.
Paddy was later best man to his younger brother Joseph (who had served with him in D Company, 2nd Battalion) who married in 1935.
On 2 December 1950, a special event was held for surviving Old ASU members. They were each presented with a hard-won and well deserved Service Certificate. Paddy was among the attendees and we still have the programme from the night.
Paddy died on 5 September 1990, just two weeks before his 91st birthday. He was granted a military funeral with a firing party rendering honours at the funeral. He rests in Glasnevin with other family members including his oldest sister Josephine who had also taken the anti-Treaty side and was caught with a load of weapons at George's Place.
Josephine served several months in the North Dublin Union, Mountjoy and Kilmainham Jails, sharing cells with the likes of Margaret Buckley, Síghle Humphreys and Máire Comerford.
How The Story Emerged
Paddy Evers has a large extended family of nephews, nieces, great nephews and great nieces. Most of the first generation would have met and known Paddy. They would join him for a drink every Saturday in some of his drinking haunts in town, like Fallon's in Camden Street and the Castle Bar.
The three of us from the following generation who have compiled this article never really got to know the man. One of us did met him briefly at a very young age in 1967, while Paddy was doing night watchman for the Corporation on newly laid roadways. The spot he was minding was outside his niece's house in one of the Corporation estates and he'd drop into the house in the morning time, after he was finished his work, for a bit of breakfast.
Most of the information on Paddy and his brothers and sisters came through word of mouth from the family up to about four years ago when the 100th anniversary of 1916 and all the other historical events that happened around that time, took place. It was then that three of us – Leo Lalor, Gerry Kehoe and Nicky Kehoe – started do a bit of investigation on our great uncle's history. Bit by bit we were able to put together a picture of Paddy and his family's life at that time. Unfortunately Paddy left no account himself, so in the above we have used those left by a couple of his ASU Section 2 comrades to illustrate his experiences.
We came across this site and found the team had some great information on Paddy. We also got great help from Kilmainham staff as they invited us to the Jail.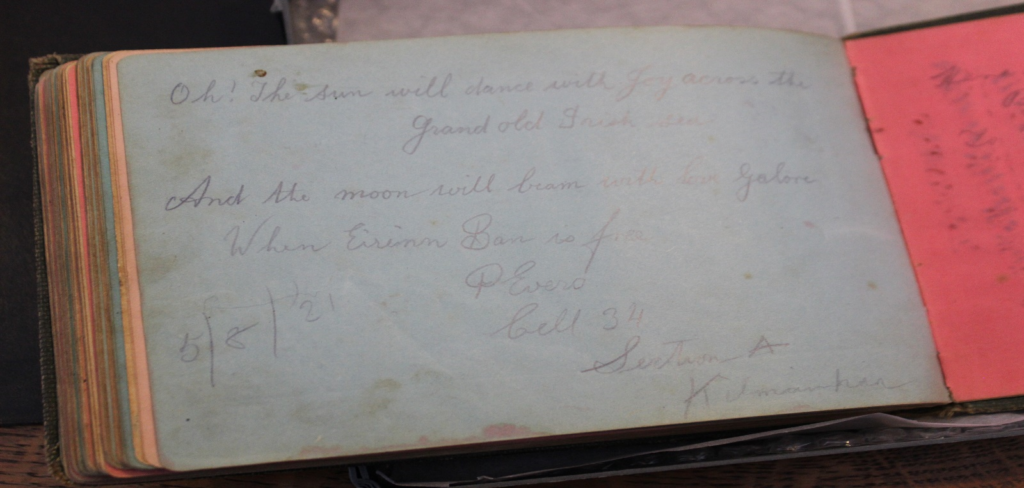 Not only had they documents from both Josephine and Paddy, they also showed us the cells that they were held in.
One of the best moments was when they brought us to Josephine Evers' cell. To top the day off they also showed us graffiti on the back of a cell door where our great aunt had inscribed her name and places and dates of her imprisonment.
We as a family are enormously proud of Paddy, Josephine and Joseph and their involvement in Ireland's fight for freedom. Though their aims of creating a free Ireland based on the 1916 Proclamation has yet to come to pass, their actions created the space for that aim to become a reality in the fullness of time. Like all members of the republican movement at that time they faced immense odds with great courage and tenacity. It took its toll on them as individual people and set a pathway in life that would define them for the rest of their lives.
Let us remember them and their sacrifice for Irish Freedom, with pride.
Leo Lalor, Gerry and Nicholas Kehoe.
All images supplied by the writers unless otherwise shown.
Notes
[1] Marriage Cert and 1901 Census
[3] The Jangling of the Keys by Margaret Buckley
[5] Hugo MacNeill BMH.WS1377, p 19
[6] Joe Gilhooly BMH.WS0390, p 7
[7] Jim Cahill BMH.WS0505.
[8] Joe Gilhooly BMH.WS0390
[9] Christy Fitzsimons BMH.WS0581
[10] Christy Fitzsimons BMH.WS0581
[12] Civil War Internment records, Military Archives