While Michael was in Mountjoy Jail in 1921 with the shadow of a noose over him, a swirl of thoughts, fears and hopes must have entered his mind.
But never in his wildest nightmares could he have foreseen returning to the same prison – twice – within a short space of time.
That was one of several dark times, sad twists and institutions which featured in his long, hard life.
Who was Michael Watchorn?
He was the first son of John, a Farm Labourer and Elizabeth (originally Taylor), born on 24 March 1896 at Ballanaboly, near Leighlinbridge, Co Carlow.
He had three sisters and two brothers. The family moved to Tankard's Town, then settled at Ballinabrannagh, Milford.
In 1911, 16 year-old Michael was working there as a Postman, helping support his younger school-going siblings.
Within a few years he moved to Dublin where he got work as a Railway Shunter with Great Southern Railways at Kingsbridge (now Heuston) Station. He lived not too far away down the north quays, off Queen Street.
Michael's Military Pension file says he joined the Dublin Volunteers, D Coy, 2nd Battalion in 1917. His first O/C was Capt. Paddy Moran who was later executed. In the early stages his activities involved patrols and attendance at republican funerals while armed. As action increased, Watchorn says he took part in ambushes on Dorset Street and Eden Quay, the unsuccessful attempt to lure Auxies into a trap at Seville Place, the attack on the L&NWR Hotel on North Wall in April 1921 and, of course, the Burning in the following month.
The Mountjoy Six
Watchorn was among a handful of men arrested by the Auxies at the Custom House accused of being caught armed.
His grandnephew and namesake Michael in Carlow emailed us last year with the story handed down in the family:
"Michael Watchorn took part in [the Burning] on 25 May 1921. He was 25 years old. He had a small firearm with 6 bullets. He was captured, taken to Dublin Castle and severely beaten. He was one of the six that was taken to Mountjoy Prison and was to be executed. I believe a vote in the Dáil and with Michael Collins signing the Treaty in December 1921 in London, he was reprieved. He was set free in February 1922."
Pretty accurate family lore.
'High Treason'
According to the arrest report "five revolvers (loaded)" were found "thrown in the Stationery Department, the property of Michael Watchorn, John James Wilson, John Sliley [sic, should be Sliney], Patrick Brunton, James T. Shiels [the alias for Tom Flood]."
Based on the IRA accounts and common sense we can only conclude this was a trumped-up charge. Many of those stuck inside the burning building stated they discarded all weapons before capture. Some say their guns were tossed into the flames after being smashed. The men were well aware it was a capital offence to be caught armed. They knew that the brothers of two Custom House attackers had paid that ultimate price 6 weeks beforehand. It would have been suicidal to keep the guns on their person. Or even leave their empty and useless firearms nearby to be found so easily.
In any event, how could any weapons be attributed to particular individuals without fingerprinting or some other real proof?
It stretches imagination to accept the charges were honestly made. Nevertheless, the five men along with some others were brought to Dublin Castle. There they were savagely interrogated and beaten. Ten, 'merely' accused of being implicated in the Burning, were sent to Kilmainham Gaol as internees to be further investigated. The remaining 6 – the five above plus Ned Breslin (a bullet was found in the lining of his jacket) – were transferred as prisoners to the high security Mountjoy Prison.
First Spell in Mountjoy
The Jail Register shows they arrived on Thursday 26 May (having 'over-nighted' in the Castle). Michael's personal details were recorded as follows:
Age 25. Height 5 ft 9 ins. Weight 172 lbs. Brown hair. Hazel eyes. Fresh complexion. Birthplace: Co Carlow. Address: 12 Paul Street (off Queen Street), Dublin. Next of kin: father John, Milford, Co Carlow. Occupation: Railway Shunter at Kingsbridge Station. He was single, a Roman Catholic and could read and write.
The charge against him and the other five reads "Offences under ROIR" confirmed by Lt. Col. F. S. Montague Bates, Competent Military Authority, for Trial by Court Martial.
As a result of his arrest, Watchorn was sacked by Great Southern Railways.
Dark Days
He and his Custom House comrades were to spend many months awaiting trial. Every time the cell door opened could have brought the order to appear before a military tribunal. With no right of appeal. And the prospect of execution was very real. There were enough recent precedents, from Kevin Barry in November 1920, to the nine volunteers executed only a few months before the Burning. One of them, Frank Flood, had been a brother of Michael's co-accused Tom Flood. The mental stress alone must have been a heavy burden. It was not lifted – and then only temporarily – until just before the Truce. Their scheduled trial had to be postponed owing to Tom Flood's appendicitis. A lucky twist of fate. The ceasefire shortly after meant all courts martial were suspended pending the outcome of peace talks. But even the signing of the Treaty in December 1921 was still not a permanent stay of execution, so to speak.
Reprieved!
It was not till Thursday 12 January, six days after the Treaty was ratified by the Dáil, that Michael and the others walked out of the condemned cells. Watchorn was a free man, the charges against him wiped out under the amnesty for political offences during the war. He said later he received £10 from the Prisoners' Dependants Fund. It must have felt like he'd won the equivalent of the Lotto to get out of the 'Joy!
He was probably also upbeat and pleased about the peace settlement with the British. However, the looming IRA division over the Treaty was to mean a resumption, within a few months, of military service for the six Custom House men from Mountjoy. Messrs Breslin, Brunton, Flood, Sliney, Watchorn and Wilson all joined the new Provisional Government army in early 1922. But, as the split worsened Paddy Brunton switched to the anti-Treaty Executive IRA forces with their HQ in the Four Courts.
National Army
Michael's enlistment took place at Marlborough Hall on 27 March 1922. He was posted to A Coy, 8th Battalion, 2nd Easterns. He was made up to Sergeant in August and is recorded in the Army Census that November at the Ordnance Survey Depot in Phoenix Park.
Back At The 'Joy
His grandnephew Michael says Watchorn returned to Mountjoy Jail during 1923, this time on the prison staff. He had been transferred to the Military Police as a Private and was a guard in charge of anti-Treaty prisoners. He later said he looked out for their interests as best he could. During that time, Michael got to know two of them – Tom Derrig and, in particular, a certain Dan Breen with whom he got on very well, as his grandnephew learned. Those acquaintances did not forget him when he needed help almost 10 years later, as we will see later.
"Got into Trouble"
Then came another major upheaval in Michael's life. He was arrested with 2 others for a violent armed robbery in an inner city pub on Christmas Eve 1923. Apparently the defendants did not know each other and were not previous associates.
Mountjoy, Part Three
Watchorn found himself in the place yet again, on remand. There were several eye-witnesses who identified the accused and in January 1924 all three were convicted by a jury in the historic Green Street court. The Recorder (judge) severely criticised Michael's role in particular. Mandatory and exemplary sentences were imposed. For Watchorn it was 4 years penal servitude, a £100 fine (or one further year in default) plus 20 strokes of the cat. Even the judge expressed the hope he would never again have to impose such punishment.
One newspaper reported that as Michael was being led from the dock, a young lady wearing glasses kissed him, then burst into tears and left the court.
More Dark Days
Within a month he was moved from Mountjoy to the Select Division in Maryborough (now Portlaoise) Prison to serve his sentence. Further punishments were his Discharge with Ignominy from the Army with effect from 24 December 1923 and being disqualified from a military pension (for 5 years' service) and his Tan War medal.
He had plenty of time in jail to reflect on and regret his foolish action before his release under licence by the Minister for Justice in May 1927.
Having paid his dues to society, Michael went back to his roots in Co Carlow and found work as a quarryman at Clogranane Lime Works, Raheendoran. He never troubled the law again. But his own hardships were far from over.
Permanent Darkness
Michael's mother Lizzie died in June 1928. Two months later, while working in the quarry at his tough and dangerous job, Watchorn was caught in the premature explosion of a blasting charge. His grandnephew says he lost one eye and was left unable to work. But he was ineligible for Workmen's Compensation. Furthermore his other eye had been badly damaged and around Easter 1931, it too had to be removed. Michael was now totally blind.
He spent 5 years at the Richmond Institute for the Industrious Blind, 41 O'Connell Street, Dublin and St. Joseph's Asylum for Blind Men in Drumcondra "learning to make baskets etc from reed rushes", says his grandnephew. During that period he married Margaret McDonnell (about nine years his senior) on 7 January 1933 at St. Agatha's church. The couple moved down to his home place.
However, they were in dire financial straits, only receiving 30 shillings a week through the Old Age Pension for the Blind and Blind Person's Assistance from the County Council. Grandnephew Michael recalls the little tin hut his granduncle lived in at Milford. A local T.D., visiting him in 1966, remarked on how he kept the place very tidy and was surprised at how active he was despite his blindness.
This is reinforced by information from Kate Sheppard, a great grandnephew of the Custom House Man. She never got to meet him, but has great insights into his character and capabilities. "During the years that he was blind, family, neighbours and friends would help him out, providing him with food and writing letters on his behalf – which is a testament to his likeability. However, Michael was fairly courageous and independent even when he was blind; as he would get in his boat and travel along the river Barrow to cut rushes."
Kate adds "My Grandfather Mixer [another Michael!] Watchorn always spoke of his uncle so highly. While [ex-IRA] Michael had no children of his own, he was a very generous and nice man by all accounts.
He, like many others, was given a council cottage at some point (years after he had gone blind) but had gifted it to my grandfather when he was starting out with his family. The house is still in the family with my mother today.
Something curious that my Granddad, Mixer, had told me was that his uncle did not want to have a guard of honour or commemorations for his funeral. The reasons why were unknown. Furthermore, Michael's hut remains behind his friend's house today, perfectly intact as a kind of tribute."
And, with many thanks to Kate and Peggy and Jim Kinsella, the old friends of Michael, we can see them chatting outside his hut.
Military Pension Saga
Back in 1932 Michael had made an appeal for some small financial help to the new Fianna Fáil administration. In it he laid bare his past, conviction and all. One thing he said is poignant "I didn't mind being refused a pension back then because I could work and earn a living". His old republican charges from Mountjoy Jail – now T.D.s – Tom Derrig and Dan Breen made representations on his behalf. However, under the law as it stood the original refusal could not be changed.
A Chink of Light
Seventeen years later, in 1949, the military pension legislation was amended to allow for awards in special cases (This actually resulted from a successful legal challenge by Jim Conroy, another Custom House Man. His military pension had been refused over two alleged murders!). Watchorn's application was re-opened and the following year a pension was at last approved for him. It amounted to £20 a year after his Blind Assistance payment was ceased. He was granted a Special Allowance (for 'Destitute IRA'). But it was all a pittance, for a man who had fought for his country.
At least in 1951 he was finally sent his Tan War Medal and Bar.
Around that time, he'd lost his father John. Then yet another tragedy beset him. His wife Margaret died on 2 June 1959. Michael continued to live alone at Cloughna, Milford where his family would visit to see he was alright. His grandnephew says "I remember as a boy meeting my Granduncle in his small galvanised hut".
The End Comes
With increasing age Michael's health and ability to look after himself began to fail and he entered the Sacred Heart County Home, Carlow in December 1976. He passed away there on 19 November 1978 at the age of 82.
His brother Patrick settled his affairs and contributed another poignant quote: "He left no Will as he had nothing to dispose of".
Michael was buried in Ballinabranna cemetery beside his late wife.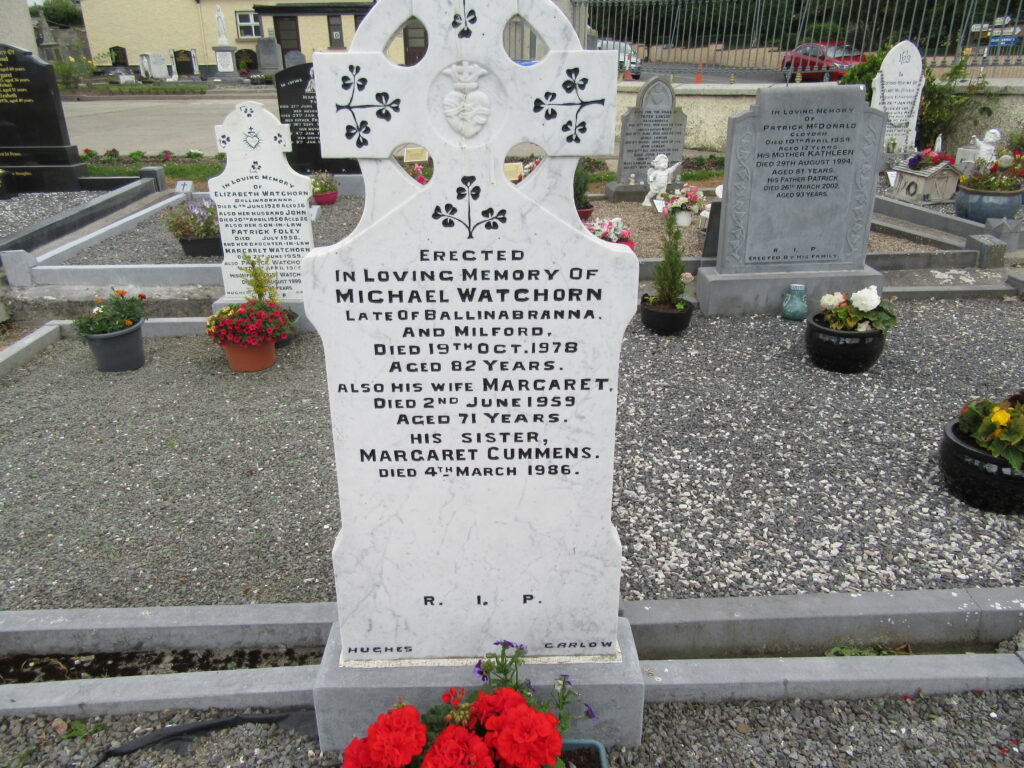 Conclusion
Michael Watchorn paid a very high price for a single mistake in his early life. The episode seems to have been a shocking departure from his previous record of good behaviour and, from all available information, looks totally out of character. How had it come about?
An insight is provided by Brigid Corr who described herself as a personal friend of Michael. She had been a Tan War activist and was, most probably, the woman in the court scene mentioned above. In early 1924 she wrote an appeal for clemency to a senior government official, an ex-IRA man. Brigid quoted Michael "he told me it was 'drink' was the cause of the whole thing. Of course you know it being Christmas times, I expect it was impossible for him to avoid it, but unfortunate [sic] enough he met with wrong company…. I'm sure there is no need to mention that he sorely regrets it…."
Of course it was a serious matter involving armed robbery, assault and the firing of shots. But it was acknowledged his previous record in the IRA and Army had been "perfectly clear". His military pension referees had written "Very active, Dorset Street ambush, Custom House, captured, jailed" (Capt. Michael Kilkelly). "Excellent, very reliable, always ready to take on the most difficult tasks" (Comdt. Michael Noone). "Always available, a very good soldier" (Capt. Sean McMahon).
And Michael did serve the time for his crime. It was all a very sad fall from the days of his selflessness in volunteering for Dublin Brigade service. Who knows how much better life may have turned out for him if he hadn't gone on a pub crawl in questionable company with a gun that fateful Christmas Eve in 1923. And it is only human to wonder how often Michael thought that over in the permanent darkness which afflicted him. But the man never became bitter and got on with life with courage and generosity.
In this writer's opinion his later troubles should not be viewed as some kind of karma for his one mistake. He was judged in a court; that is enough. And Michael Watchorn's life should never be defined by that alone. He stepped forward when his country needed him and, later, never allowed his blindness and hardships to beat him down. The writer suspects Michael Watchorn would not want our pity, just some respect.
Family Pride
Kate Sheppard says the whole Watchorn family have huge admiration for their relative who took up arms for Independence. His memory has been kept alive down the generations. And his grandnephew Michael told us "I actually have a big photograph of my Grand uncle like this one above my Office desk." He says his hero inspires him about what can be achieved in life despite hardships and setbacks if we are willing to pay the price.. The picture also reminds him of the sacrifices made by the few for the freedom we all enjoy today.
Michael is rightly proud of his granduncle: "He lived to be 82 years of age but never spoke about these times. I plan to go to the Custom House with my three brothers on 25 May 2021** in his memory for such courageous actions for helping our country gain its freedom after 800 years of tyranny.
[Granduncle] Michael's life was one of courage and then fortitude…. surviving on very little and having endlessly to ask for what he was entitled to, just to live".
A theme we have come across in the stories of many Custom House Men.
R.I.P.
Des White
* Some names provided by the National Museum on Facebook. Sean Sliney picked out by a descendant. Paddy Brunton is an educated guess by us as he was arrested with the others. However, some relatives of other Custom House Men dispute some or all of the identities. Facebook Group Members can check on that thread here.
** Unfortunately the scale of the centenary commemoration and attendance will be limited by the ongoing covid-19 situation (as of this date). But the Watchorns did make it to the Custom House in 2022 when the writer was delighted to meet them.
Sincere thanks to Michael Watchorn, Kate Sheppard, Jim Kinsella, Michael Kinsella and our fellow history buff Paul Curran in Co Carlow.