Charlie was born in a Dublin pub, went on to become a Volunteer and later owned a Bakery. He claimed to have suffered a serious spinal injury in the Custom House on 25 May 1921. This is his story.
Origins and Background
In the early 20th century the Liverpool Bar was an old landmark on Dublin's north quays run by the Ryan family originally from Co. Tipperary. It was named for its location close to the berth for ships of the British & Irish Steam Packet Company (later B+I Line) sailing to and from the English port. Patrick Ryan had married widow Bridget Connolly (née Lysaght) in 1897 and by 1901 they were the proprietors of the public house at no. 11 North Wall.
Charles Christopher Ryan was born there on 6 December 1901. Twenty years later – on the day the Treaty was signed – he would celebrate his birthday in Kilmainham Gaol during his internment after the Custom House attack. But he received a nice present two days later – he was released with his Fire Brigade comrades.
Growing up a Rebel
Charlie was raised with six siblings, including two half-sisters from his mothers first marriage. He probably went to school in St. Laurence O'Toole's which was a real hot-bed of Republicanism. Many members of E Coy, 2nd Battalion, Dublin Brigade, whose operational area covered the locality, attended there. He joined that unit as a teenager in 1918. Ryan went on to take part in ambushes, armed patrols and regular drilling and was regarded as a reliable and active Volunteer. He also worked as a shop assistant in his mother's grocery attached to the pub.
Nowadays, office block after office block occupy that part of the north Liffey quays. It was far different when Charlie was a kid. The area bustled with dockers, storemen, carters, seamen, and passengers using the ships. To satisfy their thirst, there were no fewer than five licensed premises and two hotels in the stretch from nos. 1 to 11 North Wall. In his youth Charlie must have seen and met a wide range of characters from different parts of Ireland, Britain and further afield. Hopefully one group who never darkened the Ryan's shop door was the Q Company Auxies based in the L&NWR Hotel further down the North Wall from March 1921!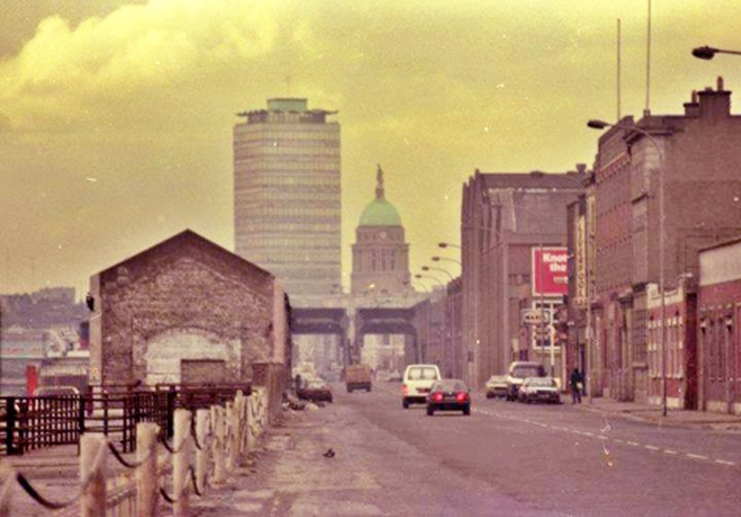 Things seemed to be going well for the Ryans. However the family suffered a tragedy in 1920 when the father Patrick died, leaving Charlie's mother Bridget as a widow for the second time. Charlie's grandnephew Patrick Ryan says his family's lore is that Mrs Ryan lost the pub when Charlie was arrested in 1921. However, while the Ryans' Liverpool Bar pub and grocery was sold at auction in May 1921, it had actually gone on the market in November of the previous year. It continued as a going concern under a succession of several owners until the late 1980s. The building and the whole block were demolished in the 1990s and the site is now covered by the huge Citibank offices.
A Double-Whammy at the Burning
It is likely, but not known for certain, that Charlie was involved in the attack on that enemy base in April 1921. But he was definitely mobilised for the Custom House attack the following month. He was one of the men ordered to spread incendiary materials in the rooms and offices on the upper floor. IRA were busily hurrying about the corridors and stairs. Things became chaotic when the "false evacuate" signal was heard.
In any event, while carrying out his duties in the building Ryan said he collided with the banisters on a staircase and injured his lower back. He was arrested with the main body of men and taken to Arbour Hill, then on to Kilmainham. About five weeks after being locked up there his back became very painful and he received treatment from the Gaol's medical officer.
While interned Charlie was among those who made an entry in an autograph book kept by fellow 'CHFB' member (Custom House Fire Brigade), Dan Rooney.
Peacetime Begins Painfully
Following his release in December he was forced to get further treatment which involved a spinal graft operation. He spent a considerable time in hospital and was unfit for IRA duty or his former civilian work for that period. However, Charlie did manage to serve with the National Army Marine Investigation Dept from June to December 1923.
Personal Life
On 23 January 1929, Charlie married Annie Mahon, the daughter of a train driver from Phibsborough Road. He signed the register as Charles C. Ryan, living in 4 Ulster Street, not far beyond Dalymount Park, and gave his occupation as Van Driver. The couple went on to raise a family of six, having lost one child as an infant. Two of their daughters, Peggy (in Canada) and Bibi (in Baldoyle) are still living.
Charlie's grandson Ciaran Ryan recalls meeting Vinny Byrne a few times at his grandad's home at 45 Mountjoy Street and says the two old E Coy comrades men were good friends.
One memento from Charlie's military service Ciaran kindly shared is an anniversary memorial card for the IRA killed at the Custom House. Poignantly it is dated the year after Charlie had joined them in the grave. On St. Patrick's Day, 1976 Charles Ryan had passed away in a Dublin hospital. He was a retired Bakery Proprietor aged 75, late of 45 Mountjoy Street.
His death notice proudly referred to his membership of E Coy, 2nd Battalion, Old IRA. He was survived by his widow Annie, their children and grandchildren and his sister Esther. Charlie was buried in Glasnevin Cemetery.
He is still remembered with pride by his descendants and relatives in Ireland, Britain, California and Canada. And we are also delighted to mark Charles Ryan's contribution and sacrifices for Ireland's Independence.
Des White
Credit to this blog and the Old Dublin Pubs Facebook Group for the history of the Liverpool Bar and pics.