Even before the Treaty was ratified, IRA members all over the 32 counties had to decide yes or no. In hindsight, it is simplistic to say it was a really tough choice for every individual. And they became divided…
The men who had attacked the Custom House on 25 May 1921 were no exceptions. They were split in their loyalties like their pre-Truce comrades, a microcosm of the IRA.
Among the Custom House Men, some did immediately determine to stay with the Republic they had given their oath to. More decided they would give the Treaty, the Collins Stepping Stone they had fought to achieve, a chance. Those with confused or conflicting loyalties would take a bit more time to make up their mind. Some would change sides before the Civil War started; and others remain neutral in it.
The Big Picture
Around the island many senior commanders made their position clear at an early stage, while others kept theirs quiet for a while. Their officers and volunteers had to make the difficult choice – follow their leaders or their own hearts and minds. Most historians tend to reckon that the majority followed the stance of their higher command.
Among many familiar names from the Tan War, men from the Burning would feature in press reports concerning both IRA camps and confrontations between them.
The Allegiance Picture
Throughout the 32 counties, the IRA was deeply split over the Treaty. This map shows an overall picture of the allegiance of the IRA Divisions. But things were not as clear everywhere as it may appear. After all, it was individual IRA members who ultimately decided their own position, whether or not influenced by leaders.
So, while O/Cs of Divisions announced their Treaty stance, Brigades, Battalions and Companies seldom 100% followed their O/Cs. This can be seen with several shown in two colours, mainly in Leinster (the east of the country). Some, like 1st Midlands and 1st Eastern were predominantly pro-Treaty, while 2nd Eastern was predominantly anti-Treaty. Within Dublin, for example, while the two Brigades' senior officers and most Battalions stood against the Treaty, not all units did so and definitely not en bloc. Even at a Dublin Company level, allegiances were split. Take B and D Companies of 2nd Battalion, reported to have signed up with the pro-Treaty forces at Marlborough Hall.
The press report above was "emphatically refuted" by A. F. Doyle, O/C 2nd Battalion, stating "the majority of the officers and men of the two Companies were still parading, as always, with [his] Battalion [of the anti-Treaty IRA]". Although the Battalion's former O/C (uniquely in Dublin) and many of his men chose to follow Michael Collins, the reality was that 2nd Battalion, like most units, was divided between the Republican and Free State camps.
The Dublin Picture
For the general public in Dublin this military split over the Treaty in the capital really came into the open in late March and early April 1922. There were frequent press reports on 'The Army Position', listing appointments by pro-Treaty GHQ Beggars Bush and bulletins from their anti-Treaty opponents.
Of course there was also coverage of many other dramatic happenings outside Dublin. In several areas, IRA men were involved in stand-offs and armed confrontations over the occupation of installations vacated by the departing crown forces. And there were headlines about happenings in the north where there was appalling sectarian violence with horrific killings almost daily.
As our focus is on the roles played by Custom House Men, we will mostly discuss what was going on in Dublin where our subjects were then based – with brief visits to Limerick City and Templemore, Co. Tipperary where well-known Custom House Men featured in notable incidents.
Main Focus – The Custom House Men
We will cover only a selection of events and will not be providing a day-by-day account or a general history of the Civil War! That would be way beyond the scope of this site.
For anyone interested in a wider account, there is a reasonable enough timeline here and another more detailed effort here, with some suggested further reading below.1
Please also see the note on terms used to describe the parties involved.2
Sniping and Worse
As the IRA split hardened, hostility and personal animosity erupted among some former comrades who were now on opposing sides. Like what happened Custom House Man Paddy Rigney. He had decided to remain with the IRA and refused a commission in the new Army being formed by the Provisional Government. Rigney was an early victim of a drive-by shooting by a former comrade who had become an officer with the Beggars Bush GHQ forces. In February, Paddy claimed he was wounded in the leg by the unnamed man who took extreme exception to his anti-Treaty stance.
Paddy Rigney recovered to fight on, but 21 year-old Vol. Michael Sweeney, a wounded veteran from Rigney's No. 4 ASU, Dublin Brigade was not so lucky in a later encounter with Beggars Bush men. On Monday 10 April he was shot in the head in highly controversial circumstances while in the custody of GHQ troops. The victim was under arrest and being conveyed to Mountjoy Prison. He died the same day in Jervis Street Hospital (Incidentally, years later Paddy Rigney would support a claim for a military dependent's pension by young Sweeney's mother and sister. A gratuity of £150 was recommended by the Army Pensions Board but rejected by the Dept. of Finance).
Lieut. Michael Sweeney from Harold's Cross had been O/C of ASU No. 4 Section until his wounding at Crumlin in 1921 (He was succeeded by Custom House Man Padraig O'Connor). As the large funeral cortege passed Leonard's Corner, near Wellington Barracks on the South Circular Road just recently occupied by the opposing pro-Treaty forces, the Tricolour on the barracks flew at half-mast out of respect.
Sad as such an individual tragedy was, bigger and more serious confrontations and many further fatalities were to come as the opposing camps mobilised, armed themselves and re-organised. And past loyalties would be shattered in a bitter conflict between those who'd fought the British to a stand-still.
The Limerick Stand-Off
On 18 February, East Limerick Brigade O/C Liam Forde repudiated GHQ. Less than a week later, the British evacuated two barracks in Limerick City. Pro-Treaty troops under Commandant Hurley occupied the Castle Barracks; he was arrested by local anti-Treaty forces and went on hunger strike. Other anti-Treaty units arrived and many buildings were occupied. Pro-Treaty GHQ in Dublin sent several officers to Limerick to bolster their position and also ordered 1st Western Division Commandant Michael Brennan to take over the city's barracks on 3 March. Ernie O'Malley, anti-Treaty O/C of 2nd Southern Division, arrived and insisted all outsiders must withdraw from his Divisional area.
In The Singing Flame he described meeting "the three Dublin officers". They were Custom House veterans and former Squad men Jim Slattery, Tom Kehoe and Bill Stapleton who had acquired a Rolls Royce armoured car, often called a 'Whippet', locally from the British (see photo below). They told O'Malley they did not enjoy being there but were following orders. After difficult negotiations involving senior anti-Treaty officers Liam Lynch and Oscar Traynor, a compromise was reached and most IRA forces left the city by 11 March.
On his way back to Dublin in the armoured car, Stapleton called at Templemore Barracks, to deliver the vehicle to the IRA garrison under orders from J. J. 'Ginger' O'Connell, GHQ Vice Chief of Staff. This was to prove a very unwise move with significant consequences.
The Origin of 'The Mutineer'
At the time of Captain Stapleton's arrival the Templemore Barracks garrison were undecided about their loyalties. This would soon change to an anti-Treaty allegiance and they had gained the very useful asset of the armoured car. Ernie O'Malley would manage to arrange for its transfer to Dublin and it was famously emblazoned with the name 'The Mutineer' when used by the Four Courts Republican Garrison in June.
The IRA Executive (Anti-Treaty, Republicans)
People taking an interest in national developments may have noted reports from a press conference given by Rory O'Connor, IRA Director of Engineering and now also Director of Publicity, on 22 March. One headline read:
"Amazing interview with IRA Officer; Repudiation of the Dáil; Manifesto Issued;
Calling Banned Convention".
It was at this press conference that O'Connor made his famous remark about a military dictatorship in the event of the Republic being rejected by the people through a majority vote for the Treaty in a general election due to held within the coming months.
Further big news emerged from that IRA Convention, held on Sunday 26 March in defiance of a Dáil decree. Approximately 220 predominately anti-Treaty IRA delegates met in the Mansion House and repudiated control of the Dáil and Provisional Government over the IRA. They resolved "it shall be maintained as the Army of the Irish Republic under an Executive [Council] appointed by the Convention".
A temporary Executive of 16 members was elected, headed by Liam Lynch and including veteran Republicans Rory O'Connor, Liam Mellows, Joe McElvey, Tom Barry, Ernie O'Malley and Dublin Brigade O/C Oscar Traynor, who had been in overall command of the Custom House attack. The Convention adjourned until 9 April.
On 28 March, the Executive IRA issued a statement that Minister of Defence (Richard Mulcahy) and the Chief-of-Staff (Eoin O'Duffy) no longer exercised any control over the Army of the Republic. In addition, it ordered an end to recruitment to the new military and police forces of the Provisional Government. Furthermore, it instructed all IRA units to reaffirm their allegiance to the Irish Republic by 2 April.
In response the majority of the officers and men of the Dublin Brigades and the IRA nationally aligned themselves with the anti-Treaty forces. The Executive claimed 80% were loyal to them.
GHQ IRA (Pro-Treaty, Provisional Government, later National Army)
The majority of the post-Truce GHQ staff officers aligned with the pro-Treaty position. All members of the former GHQ Squad and Intelligence (apart from one exception known) plus most men of the Active Service Units (predominately northside) joined them.
At Battalion level in Dublin Brigade, the 2nd uniquely sided with GHQ. It had been formerly led by Custom House O/C Tom Ennis, a staunch Collins ally now promoted. A large majority of his men, many of them involved in the Burning, would follow their charismatic and highly popular leader out of personal loyalty. They, along with the old Squad and Intelligence men, would form the nucleus of the Dublin Guard and the embryonic Provisional Government/National Army.
Ennis, a renowned and highly respected Tan War fighting officer, was still limping from the severe leg wounds he had suffered on 25 May 1921. But, with the aid of a walking cane, 'The Manager' (as he was universally known in the Dublin Brigade) proved well able to carry on his wide-ranging duties tirelessly.
His camp's publicity department issued a report on the Army Convention proceedings, naming the members of the Executive Council and listing many points agreed or resolved, Obviously they had friendly sources present. GHQ Chief of Staff Eoin O'Duffy stated that "all officers and men were relieved of the responsibility of obeying orders issued to them by superiors who had severed their connection with the IRA through having attended the Convention or recognised the Executive".
Some of the Convention's resolutions included a declaration of military dictatorship, under which "all pretend governments in the island of Ireland" would be overthrown; and that the press and all elections would be suppressed until one could be held free from any threat of war by Britain.
The gloves were off from a propaganda viewpoint at the very least.
Pro-Treaty IRA Reorganisation
Then, on Wednesday 29 March, from Beggars Bush IRA GHQ came an announcement of Headquarters Staff appointments. It was basically a re-organisation to replace any senior commanders who had declared themselves anti-Treaty, like Oscar Traynor, with pro-Treaty officers. Among the latter were Colonel-Commandant Tom Kehoe, made O/C of the Barracks, Dublin; and Tom Ennis, now put in command of a new 2nd Eastern Division which amalgamated the Dublin City and South County Brigades. From his HQ at City Hall, he issued an Order of the Day:
"Together with my Divisional and Brigade Staffs, I wish to speak to the officers and men of the two Dublin Brigades, and in the name of our old comradeship in the fight, and our old loyalty to G.H.Q. and to the Dáil, I would ask them to stand by us in our difficult task of holding the Dublin Brigades in as worthy repute as ever. When my fellow-officers and I were out in the fight with the men of the Dublin Brigades we never failed one another, and I feel that we will be as true and loyal comrades in the future as we were in the past. We expect that the best fighting men of Dublin are together with us, steady and united, as the Republican Army in Dublin. Dublin was the pioneer in the struggle for liberty in this generation, and Dublin will again be the pioneer in protecting that liberty. We are soldiers, and mean to continue as such." (Signed) Tom Ennis, Commandant-Gen., O.C. 2nd Eastern Division and Staffs.
On Saturday 1 April, the press published the following, issued from Beggars Bush Barracks the previous day (dated 31 March, it was definitely no April Fool's Joke):
"A PROCLAMATION
Officers and men of the Dublin Brigades, we call on you now to stand firm by your General Headquarters. To stand by the Government set up by the Irish people – to stand by Dáil Eireann. To stand with the men who made the fight with you for the people of Ireland.
(Signed) Tom Ennis, O.C. 2nd Eastern Division; Jim Slattery, O.C. 1st Dublin Brigade; Frank Bolster, O.C. 1st Battalion, Dublin Brigade; Tom Kilcoyne, O.C. 2nd Battalion, Dublin Brigade; Sam McMahon, O.C. 3rd Battalion, Dublin Brigade; Frank Coughlan, O.C. 4th Battalion, Dublin Brigade; Michael McEvoy, O.C. 5th Battalion, Dublin Brigade." Notably, five out of those seven officers were Custom House Men.
Trouble at GHQ
However, despite such appointments, there were also conflicting allegiances within the new Irish Army, illustrated by an event the next day at a key premises it guarded.
The Bank of Ireland had been the account holders for the British administration and its College Green HQ was guarded by their military. With the change of administration came a changing of the guard. On 4 March, Provisional Government troops took over the military post at College Green.
Vinny Steadies The Ship
But on 30 March, shortly after the Army Convention which had influenced many of the men at Beggars Bush, the majority of the Bank's guard decided to rejoin the anti-Treaty IRA.
According to Michael Hopkinson in Green Against Green, guard O/C Vinny Byrne prevented a total debacle for the pro-Treaty side by insisting, gun at the ready, that only those declaring definite loyalty to the government could remain at their posts. He was reinforced at the last moment by troops from Beggars Bush. Among the disaffected men quitting the National Army was Custom House Man Edward 'Ned' Lane.
While the 'mutiny' was in progress, Oscar Traynor had been outside the building ready to occupy it with a force from his Brigade.
According to Deputy Chief of Staff J. J 'Ginger' O'Connell "only 6 of the 50 men at the Bank had been prepared to stay loyal to GHQ, and a new guard had to be enlisted". The Anti-Treaty side issued a bulletin reporting the occurrence, but it seems to have been published only by the Belfast Newsletter. Censorship of the 26 county press was to be a recurring theme.
More Activities
In addition to organising, exchanging words and competing through propaganda, other actions by the two IRA factions continued.
The pro-Treaty IRA had already set up their HQ in Beggars Bush, also occupied Marlborough Hall in Glasnevin and were actively recruiting around the country.
They were posting guards on various facilities and premises, setting up outposts around the city and buying some premises. For example, a large yard on the South Wall had been acquired by the Provisional Government as a depot for the military vehicles they had acquired from the British.
On 2 March, Custom House Man Commandant Paddy O'Daly led a march by about 150 fully armed uniformed men from Beggars Bush GHQ to Kingsbridge (now Heuston) railway station, from where they travelled to Kilkenny City to occupy evacuated British barracks and posts.
On the route, O'Daly's close friend and long-time ally Joe Leonard and a squad of 25 men broke off at City Hall and took over sentry duties from the previous GHQ guards there who had been armed but dressed in civilian clothes.
A Mass Declaration for the Republic
On Sunday 2 April, the anti-Treaty IRA Dublin Brigade paraded en mass from different mobilisation points to Smithfield square near the north Liffey quays. Columns of men accompanied by armed guards marched from Parnell Square, Mountjoy Square and St Stephen's Green. All 5 Dublin City Battalions were heavily represented. An attendance figure of 3,220 officers and men was given to the press.
1st Battalion: 750;
2nd Battalion: 320;
3rd Battalion: 1,200;
4th Battalion: 520;
5th Battalion: 430;
Cumann na mBan and Na Fianna were also very well represented.
Press reports described the turnout and parade a formidable and highly impressive display, adding that large crowds watched with great interest. In fact the expansive Smithfield was so full that IRA guards had to move many civilian onlookers off the square into side streets. No trouble or violence occurred and GHQ IRA did not intervene or interfere with proceedings (But undoubtedly observed all that occurred).
Among the senior officers addressing the assembled contingents were Rory O'Connor, Liam Mellows, Oscar Traynor and Frank Henderson. Because the turnout of IRA was so large, individual Battalions had to be addressed separately.
The main points in the speeches – described as short and to the point – were reported. The headline was that no oath was being taken at the gathering; but, by being there, all were declaring they would defend the Irish Republic against its enemies, whether foreign or domestic. Bitter accusations were thrown at their opponents and statements and claims made by Beggars Bush GHQ were strongly refuted.
No roll call was published. But it is highly likely that most if not all the following Custom House Men were present: Frank Brennan, Paddy Brunton, Frank Carberry, John Cullinane, Bill Donegan, Archie Doyle, Jack Doyle, Michael Duggan, Jim Foley, Bill Gannon, Jimmy Gibbons, Jim Goggins, Joe Griffin, Cecil Malley, Paddy Moore, Michael Murphy, Sean Nolan, Peadar O'Farrell, Paddy Rigney, Michael 'Tiger' Smyth and others.
Another group of Custom House Men who had earlier joined the new Army's Dublin Guards may have resigned by then – or been on the brink of switching allegiance – to return to the IRA: Paddy Brunton, Billy Doyle, Paddy Evers, Edward Lane, Mick Walker and George White.
The Army Convention reconvened on 9 April. A plan to cancel any elections on the question of the Treaty for the foreseeable future was aired, but not unanimously agreed. However, that suggestion was too much for three Executive Council members who resigned (Florence O'Donoghue, Tom Hales and Seán O'Hegarty). They had peace overtures in mind with the aim of re-uniting the IRA camps.
The Executive appointed an Army Council of seven and Liam Lynch, O/C of the largest IRA unit, 2nd Southern Division, as Chief of Staff. Joe Griffin, formerly 2nd Battalion Dublin Brigade Intelligence Officer arrested at the Custom House, was made Director of Intelligence.
IRA Occupations of Buildings Begin
On Saturday 25 March the anti-Treaty side had taken over the Orange Order's Fowler Memorial Hall on Parnell Square when armed men ordered the occupants, attending an evening dinner dance function, to leave. Executive IRA forces also commandeered and cleared out traders and customers from the Fish Market off Capel Street as a parking area for IRA transport used by delegates from around the country to get to the Convention (It was handed back for normal use when no longer required). Other loyalist buildings like The Kildare Street Club and houses on Parnell Square as well as the Masonic Hall would also be seized and occupied.
Suppression of anti-Republican Press
Another party of anti-Treaty IRA men had different orders when they entered the offices of the Freeman's Journal newspaper on Townsend Street in the early hours of Thursday 30 March.
The paper had adopted a very strident pro-Treaty line and had published a Beggars Bush GHQ report of the Army Convention proceedings – the only Dublin publication to do so.
The raiders held up the staff and presented the following document:
Oglaigh na hEireann, General Headquarters, Dublin.
You are hereby notified that it has been deemed necessary to suspend publication of your journal in view of statements made therein, calculated to cause disaffection and indiscipline in the ranks of the Irish Republican Army.
By Order of the Army Executive.
They herded the workers out of the way and proceeded to destroy the printing presses and machinery using sledgehammers and also set rolls of newsprint alight. The printing shed was destroyed and the Executive IRA Publicity Department acknowledged the action. The paper would, however, return to publication a couple of days later as a handbill posted around the town and be fully operational again by 25 April.
Major Republican Arms Seizure
On the same day of the Dublin newspaper raid, the 1st Southern Division pulled off an amazing success in the waters off the south coast. The British vessel Upnor, carrying a large consignment of arms (rifles and machine guns), ammunition and explosives destined for England was intercepted and boarded. The IRA had acquired a very useful arsenal without firing a shot.
Counter Moves
At 8 am on Wednesday 12 April Commandant Generals Tom Ennis and Sean MacMahon (GHQ Quartermaster General) marched their men into Wellington (later Griffith) Barracks as the British marched out. No photographers and very few observers were there to witness the event.
Custom House Man Captain Jim Harpur, stationed at Beggars Bush, said he was was told by Ennis, "that Irregular elements were contemplating having the barracks handed over to them. He instructed me to get a company together and proceed to Wellington Barracks at 0800 hours. He undertook to inform the British O/C". The next morning when the Irish troops marched into the barracks, the British officer commanding duly presented arms, showed Harpur around the barracks and marched his men out with their band playing. There was no further ceremonial and hardly any onlookers as Irish soldiers occupied the place with Irish Republican Police as armed gate guards.
The large barracks was intended to become HQ and training depot for Ennis's 2nd Eastern Division.
Other buildings occupied or guarded by armed Beggars Bush forces "as a precautionary measure" included Jacob's Biscuit Factory on Bishop Street, the Shelbourne Hotel on St Stephen's Green, GPO premises on Amiens Street, Broadstone Railway Terminus near Phibsborough, Hopkins & Hopkins Jewellers at the corner of Eden Quay and Lower O'Connell Street and Aldborough House, Portland Row near the Five Lamps. Sentries were posted at the entrances, but normal business continued.
But a much more significant and astounding occupation by their opponents would follow very shortly.
The Seizure of the Four Courts
The Executive IRA made their surprise move just after midnight on Good Friday 14 April when a large party of armed men occupied and fortified the Four Courts and also took over the Four Courts Hotel in the same complex of buildings.
The law courts which had been held successfully by the Volunteers under Ned Daly in 1916 would now become GHQ for the anti-Treaty Republicans, on Easter weekend six years later – both highly symbolical. Several Custom House Men including Michael Murphy were in the Garrison at this stage.
Another Custom House Man Paddy O'Daly who had fought in the building during the Easter Rising would feature there again in the summer of 1922. This time he would be attacking the complex in a fight against fellow Irishmen, among whom would be fellow Custom House Men Paddy Brunton, Billy Doyle and Paddy Rigney, after resigning from the National Army. A few others who'd also taken part in the Burning would be among their comrades.
Armed guards were posted and passes were needed to enter the Four Courts complex of buildings. Parties of men came and went throughout the day.
Explosives and other materiel along with provisions were brought in, entrances were barricaded and windows sandbagged and fortified with heavy ledgers, books and files.
Vehicles, including the armoured car named 'The Mutineer', were parked within the complex.
In interviews with journalists, Rory O'Connor denied it was a coup d'état or another revolution.
He said the occupation was simply to acquire a bigger headquarters and accommodation, as his forces had outgrown their HQ at Barry's Hotel, just off Parnell Square.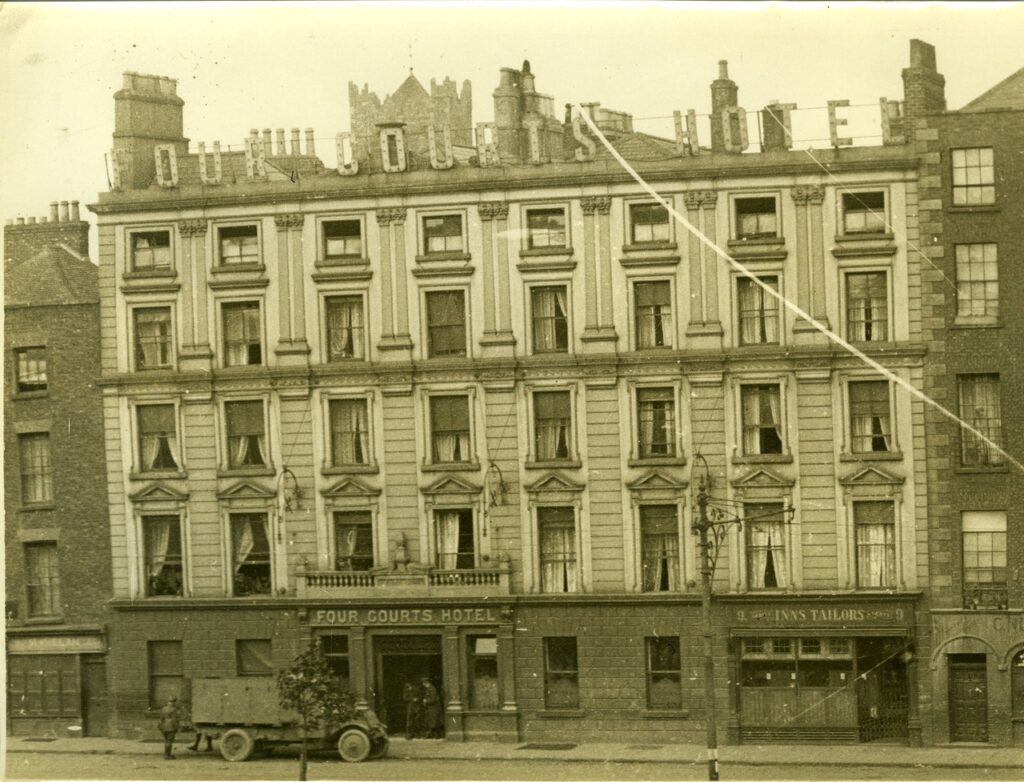 On the day after the Four Courts was seized, Republicans also occupied Kilmainham Gaol. If any of the Custom House Fire Brigade or other IRA former internees were involved, it must have seemed ironic – or perhaps bitter-sweet – to be taking over their former place of detention! And, in the not-too-distant future, some would return there as prisoners or jailers.
Such propaganda exchanges, counter claims, moves and countermoves created high tension and quickly led to armed confrontations.
A Custom House Link Broken
A pony-and-trap accident on 16 April caused the death of pro-Treaty T.D. Frank J. Lawless. He was a 1916 Battle of Ashbourne veteran, a prominent nationalist and an uncle of Mahon Patrick Lawless, killed in the Custom House attack in May 1921.
His funeral cortege to Rowlestown Cemetery in north Co. Dublin on 19 April was led by soldiers from Beggars Bush under Staff Caption Billy Corri. Custom House Men were well represented. Dublin Brigadier Jim Slattery had charge of the arrangements, while officers Tom Ennis, Frank Bolster, Tom Kilcoyne and Michael McEvoy were there from 2nd Eastern Division. Full military honors were paid. There was a large attendance, including a host of politicians in both Sinn Féin groupings – from Arthur Griffith, Michael Collins, Dick Mulcahy and W.T. Cosgrave to Eamon de Valera, Cathal Brugha, Harry Boland and Sean T. O'Kelly. Before the end of the year four of those men would also be dead, three at the hands of fellow Irishmen.
The Shooting Starts
At midnight on Easter Monday 17 April, Beggars Bush Barracks was fired on "from all sides", with approximately 20 shots striking the buildings. One soldier was slightly wounded. O/C Tom Ennis was fired at outside the gates and took out a party in an armoured car to search the city. A group of known Executive IRA men were held up near O'Connell Bridge and searched, relieved of revolvers and released. One, an unnamed senior officer, was given a lift to his hotel for his own safety. This part of the account was refuted by the Executive IRA.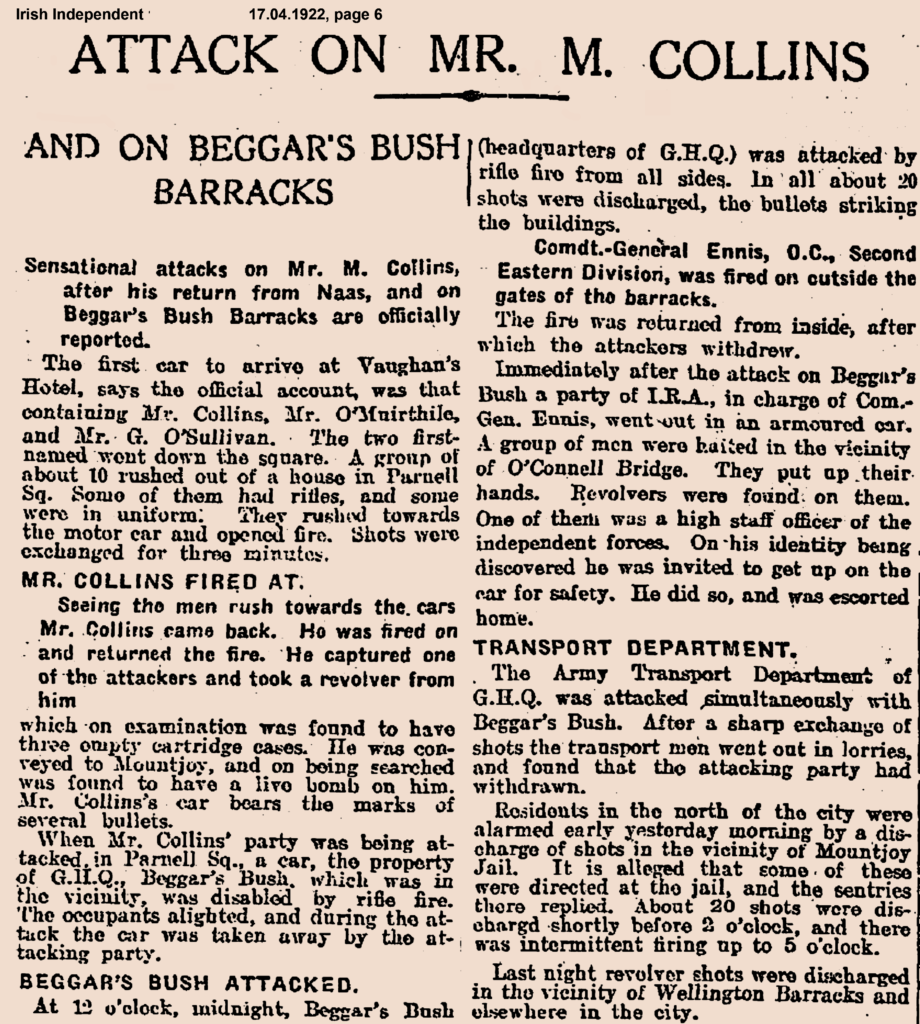 GHQ claimed that earlier that night, shots had been fired from 44 Parnell Square, an Executive IRA post, apparently aimed at a car which had brought senior pro-Treaty figures Michael Collins, Sean Ó Muirthile and Gearóid O'Sullivan to Vaughan's Hotel on their return from a political meeting in Naas, Co Kildare. Fire was returned and Collins claimed to have detained and disarmed one attacker who was taken to Mountjoy Prison. A GHQ car nearby was disabled by gunshots and the occupants got out. The car was then taken away by some of the attackers.
Elsewhere, shots were also fired at the pro-Treaty Transport Department facility at the South Wall, Ballsbridge Civic Guard station and at Mountjoy Prison. Fire was returned in those incidents but no casualties were reported. It was also claimed by GHQ that "Lieut. Wilson (motorcycling) [was] fired on in Rathmines Road". It is believed this referred to Johnny Wilson, great uncle of Custom House Group founder Gary Deering.
The Opposing View
The Executive IRA Publicity Department counter-claimed that 44 Parnell Square had been fired on from a touring car; and there had been no attempt on Collins' life, he just happened to be in the vicinity at the time. Their man detained by Collins, Sergeant Murray, was now on hunger-strike in Mountjoy. They also claimed the Four Courts and other bases used by them had been fired on by GHQ troops in armoured lorries; and that it was their opponents who had started several of the other shootings reported, all under orders from Beggars Bush. They denied all knowledge of attacks on Provisional Government assets.
Beggars Bush GHQ retorted that all their actions were defensive. It may have been the official line, but there were itchy trigger fingers and angry men on both sides.
It was tit-for-tat in words and actions. Claims and counter-claims continued, as did the shooting.
Another Barracks Attacked
According to some newspapers, almost nightly volleys of gunfire in various parts of the city had become the norm, with no obvious targets or reported casualties.
However, on the night of Thursday 20 April at about 11.20 pm, GHQ base Wellington Barracks came under a sustained attack with rifle and machine gun fire from the surrounding area. Heavy shooting continued for about 40 minutes. Two grenades were hurled in the gates by a party attempting to rush them; the sentries responded with shots and a grenade, claiming two attackers were assisted away. Three of the garrison were slightly wounded and windows in the barracks were shattered. It was reported that the ubiquitous O/C Tom Ennis had ordered that fire be withheld until the barracks' assailants could actually be seen. The attackers withdrew about ten past midnight.
That same night, several other GHQ IRA occupied buildings, vehicles and Capt. Jimmy Wynne, an off-duty officer from Beggars Bush band walking in uniform, were subjected to gun attacks. Targets included Crown Alley Telephone Exchange (one guard wounded), City Hall and Bank of Ireland where Sergeant Michael Kenny was hit in the thigh and hospitalised. Shots were also fired at cars carrying Custom House Man Colonel Jim Slattery and Commandant-General Emmet Dalton in separate incidents but neither was wounded. In the latter case an alleged attacker, Volunteer Fitzpatrick, was hit by return fire and brought to hospital in Dalton's car. The Four Courts claimed he was shot needlessly and lay badly wounded in hospital.
Tom Ennis (again) was out with an armoured car and stopped two lorries full of South Tipperary Brigade Executive IRA men in the city centre.
On being assured they had been on duty in the Four Courts, were on their way home and had not fired any shots that night, Ennis allowed them to continue their journey. Similar incidents involving Liam Lynch and other Republicans would occur later after the surrender of the Four Courts; and at least one captured Custom House Republican would even be allowed go free by an old comrade from the Burning wearing the uniform of a National Army officer who turned a blind eye.
Allegiances were not just black and white, or green and greener. Loyalties were very complicated and the choices many men made would prove pivotal and in some cases fatal for themselves or others.
By late April the city quietened down a bit for a while. Attempts continued to reach some compromise between the opposing elements of Sinn Féin.
On the Political Front
Earlier in April the Labour Party had condemned militarism by both sides, insisting that all parties should work together to put into effect the Dail's democratic programme. Failing a response after their second protest on 20 April, a General Work Stoppage was called throughout the 26 counties on 24 April. Unfortunately the opposing army and political factions were unmoved.
An 'Irish Peace Conference' arranged by the Archbishop and Lord Mayor of Dublin involving the political parties was held. But no agreement on proposed elections in June could be reached because of the wide gulf over holding elections scheduled for June – effectively a people's vote on the Treaty. After four sessions in the Mansion House, the Conference was dissolved on Saturday 29 April.
Looking briefly outside Dublin…
On the last day of the month, the killing of Brigadier-General George Adamson, a pro-Treaty officer in Athlone, Co Westmeath, generated headlines nationally. He was well-known and liked locally. The Executive IRA in the Four Courts disputed reports about the circumstances of the shooting but denied all responsibility. It was a foretaste of worse to come as disputes continued over who got to occupy former British barracks and posts around the 26 counties. And, like the equally contentious death of Republican Michael Sweeney in Dublin mentioned above, it fuelled bitterness.
On the same day in Ennis, Co Clare, Arthur Griffith, several other ministers and T.D.s (including Commandant-General Sean MacEoin) and clergymen addressed the large crowd at a rally in support of elections. Another platform speaker was Custom House Man Brigadier-Commandant Jim Slattery. He was one of four pre-Truce IRA men from Clare selected as Treaty candidates for the constituency. Slattery asked "that they be given a chance to build up the Army to be used as the people liked. They could do that by voting for the Treaty" (As things turned out, Slattery never got his own chance with the electorate. The Collins-De Valera election pact resulted in the four sitting T.D.s being returned unopposed).
Just the Start…
Sadly, as most Readers will know, the political and military rifts continued to widen. Further bloodshed and casualties would occur in the not too distant future as events spiralled towards the 'official' outbreak of Civil War in Dublin.
In the meantime, occupation of ex-British facilities and other sites by GHQ forces, commandeering of buildings by the Executive IRA, and skirmishes would continue in the city. There would be attempts to prevent a conflict too.
Many Custom House Men would again be involved in momentous and dramatic events. We will look at a few more in the next part which will cover the period up to the Battle of the Four Courts.
Des White
Bibliography
Not meant as an exhaustive selection, by the way… but good books include:
The Battle for Dublin and Revolution in Dublin (lots of Custom House-related photos) by Liz Gillis;
A City in Civil War by Pádraig Yeates;
We Bled Together by Dominic Price;
Between Two Hells by Diarmuid Ferriter;
The Civil War in Dublin by John Dorney;
Michael Fewer's Battle of the Four Courts;
Calton Younger's Ireland's Civil War (1968);
Michael Hopkinson's Green against Green (2004);
Reprints of The Irish Republic (1937) by Dorothy McArdle.
The Mercier Press Military History of the Irish Civil War series.
There are also several books on the Civil War in specific counties.
For pictorial histories – Michael B. Barry's The Green Divide; Revolution and Civil War in Dublin 1918-1923 – An Illustrated History by John Gibney; and (although hard to get/expensive) George Morrison and Tim Pat Coogan's The Irish Civil War (1981).
Autobiographies – Ernie O'Malley's The Singing Flame, Todd Andrews' Dublin Made Me, John A. Pinkman's The Legion of the Vanguard and Kerry Landing by Niall C. Harrington.
Sleep Soldier Sleep, a memoir by Pádraig O'Connor edited by his nephew Diarmuid O'Connor and Frank Connolly.
Fatalities (National Army) – Jim Langton's The Forgotten Fallen
Terms
The various names used for the protagonists in the Civil War may be confusing to some – and very divisive! PR was quite vicious and deliberately antagonistic on both sides. Some of them are listed below. Most are still in use today (We have consciously excluded the worst derogatory terms and will not use them in this site unless required in a direct quote).
Anti-Treaty IRA, Executive IRA, Republicans, Irregulars and Mutineers all refer to those who rejected the Anglo-Irish Treaty and all governments on the island of Ireland and supported the Republic declared in 1916, re-affirmed in 1919. The majority of the pre-Truce IRA, Cumann na mBan, Na Fianna and the Irish Citizen Army were on the Republican side.
Pro-Treaty IRA, Regular IRA, Provisional Government forces, Beggars Bush GHQ, Free State, Staters, and National Army refer to those who recognised the authority of the Provisional Government and the Dáil and accepted the Anglo-Irish Treaty of 1921. A minority of the pre-Truce IRA, Cumann na mBan (and Cumann na Saoirse set up in 1922) and Na Fianna members were pro-Treaty.
Both sides also attracted or recruited others who had not been involved in the War of Independence. The pro-Treaty side in particular dismissed such Republicans as 'Trucileers', while on the anti-Treaty side new recruits to their opponents' ranks were often painted as ex-British Army. In truth there were people in both categories on each side.