His name is on the Prisoner List but if you look for it in familiar Kilmainham photos and autograph books, there's no sign. He never had an official military record either. But, Paddy Swanzy was in the Gaol and did earn a military pension. He was also a business partner of Tom Kilcoyne, a fellow Custom House Man; and at one time acted as minder for the President of the Provisional Government. During WW2, he went to help the Allied war effort – just after getting married. A facinating life we look back on below.
Origin and Background
The son of Cavan-born William Swanzy and his wife Mary née Stephenson of 12 Essex Quay, young Patrick arrived in Dublin's Rotunda Maternity Hospital on 20 December 1891. He was one of seven surviving children from nine born to the Swanzys who both worked as Bakers. By 1897 the family had moved to East Wall on the other side of the city and were living at 43 St. Mary's Road (A near neighbour was Chris Byrne, another Custom House Man).
Paddy's grannie who lived with them passed away in 1905, followed in 1909 by his father. He remained living with his mother Mary and three siblings, the youngest aged five, who were still at that address for the 1911 census (one younger son, Denis, was in St. Vincent De Paul's Orphanage School, Glasnevin). Paddy was listed as a 19-year-old Baker. Two years later their mother died from T.B. A very tough few years for the young family.
The Rising and Aftermath
Swanzy joined the Irish Volunteers D Coy, 2nd Battalion, Dublin Brigade in July 1915. On Easter Monday 1916 he was with the garrison occupying Gilbey's on Richmond Road and the nearby McCabe's pub commanding Ballybough Bridge before being ordered to the GPO. He fought in the Imperial Hotel on O'Connell Street until it was set ablaze. On the Thursday, en route back to Ballybough, he and his comrades – including a very young Tom Kilcoyne – were intercepted by military on Gloucester (now Sean MacDermott) Street. After being surrounded for twelve hours they were forced to surrender. Following arrest they were kept under guard in the Custom House for three days before being taken to Richmond (later Kehoe) Barracks. They were then deported to Knutsford and subsequently Frongoch (Camp 2). Patrick Swanzy was listed in the Sinn Féin Rebellion Handbook as a Baker from 108 Phillipsburg Avenue, Fairview.
Paddy was released in August and came back to Dublin where he helped re-organise his Coy. Unable to get a job in the city over his part in the Rising, in 1917 he went to Cork for work with a letter of introduction from Michael Collins and his train fare paid for by the National Aid Fund. Swanzy was with the Cork City Battalion Volunteers and worked in Trade Union circles to recruit members for the Irish Citizen Army and then to amalgamate with the Volunteers. He was also active in the Gaelic League.
Back to Dublin Brigade
In November 1918 he returned to the capital, rejoined D Coy as a Section Commander and went with one of his sisters to live at 3 Mountjoy Square. The house was owned by Walter Cole, a well-off republican Fruit Merchant, Corporation Alderman (later T.D.) and friend of Arthur Griffith. Cole's house had been used for some planning meetings before the Rising and in 1919 it was used for several meetings of the banned First Dáil.
During a military raid on the house in September 1920, five bullets and a quantity of An tÓglach were discovered. Paddy was arrested along with the householder. Swanzy spent two weeks in Mountjoy Prison before being let out (Mr. Cole was released from custody the day after the raid).
Paddy resumed his IRA activities and after the execution of D Coy Captain Paddy Moran in March 1921, became 1st Lieutenant.
He was involved in many operations including armed patrols; ambushes at Dorset Street, O'Connell Street and Whitehall; the major ambush attempt on Auxiliaries at Seville Place; a raid for materiel on Broadstone railway station; the burning of Income Tax offices; intelligence activities; Belfast Boycott work; purchase of and raids for arms; the shooting of a spy on Mountjoy Square; and the attack on the Auxies in their L&NWR Hotel base.
Of course he also participated in the Custom House Burning. When captured, he gave a home address of 50 North Strand Road. In the lead-up to the attack, he had worked with republican activist Mrs Lillie O'Shea Leamy to rent stables for storing the paraffin to set the fire. Swanzy said she often accompanied him to rent premises for Dublin Brigade use.
What's in a Name?
Swanzy was interned in Kilmainham, where it appeared he had somehow slipped under the radar. His name is not included in any published photos or autograph books kept by the prisoners. Some appearance would have been expected for such a well-known IRA officer.
As it turned out, the explanation was simple but not so obvious. Paddy, an Irish language enthusiast and speaker, had used an unfamiliar Gaelicised version of his surname – Mac Ailghíos – which had been assumed to translate as MacAleese.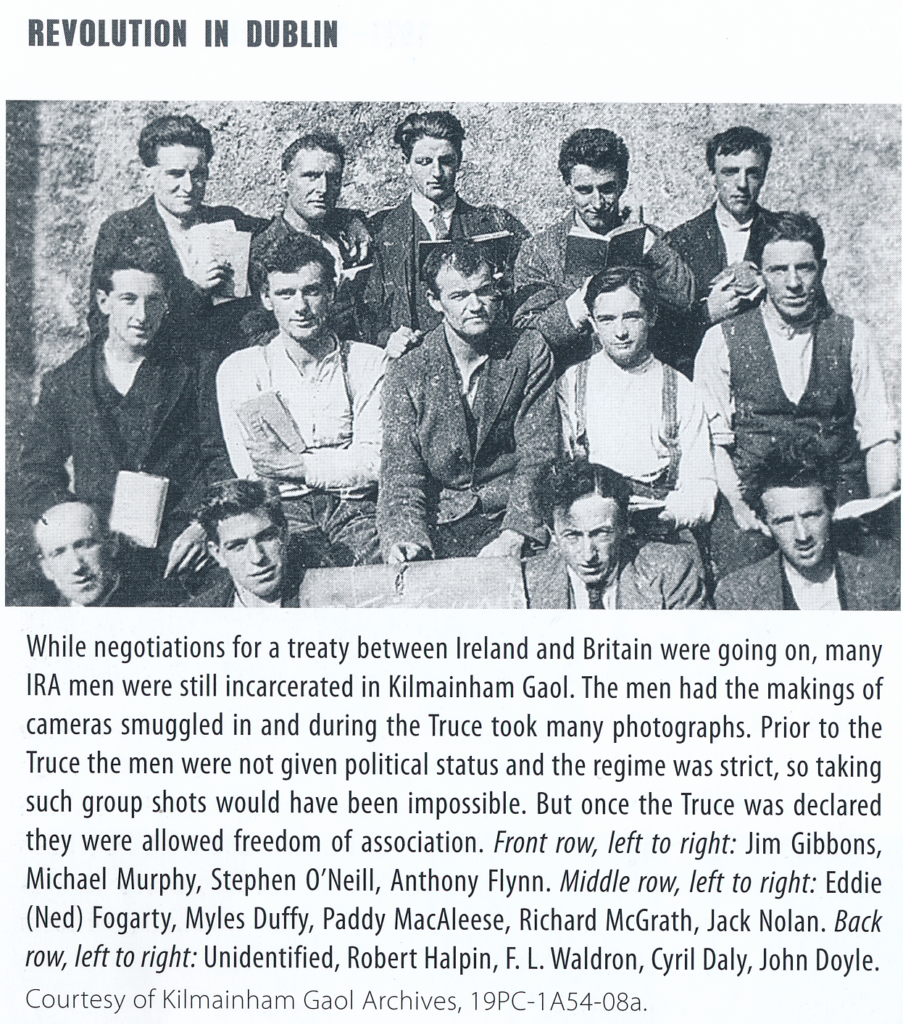 Confirmation of Paddy's identity and appearance came from a Kilmainham photo kindly shared by Maureen Griffin, a descendant of Custom House Man Joe Griffin who had helpfully annotated the back of the image with the three names shown below. Since then, an autograph showing Swanzy in brackets after his name in Irish has been shared by Custom House Group Commemoration Group member Winnie Doyle Dunne.
A Treaty Supporter
Swanzy was freed with the rest of his comrades on 8 December 1921. Again he was unable to secure work in his own trade and became an Irish Language teacher for a time with the help of (later Major General) Sean Ó Muirithille, then Secretary of the Gaelic League. Paddy was also a strong believer in the merits of the Treaty and was close to leading figures in that camp. He acted as a body-guard for Arthur Griffith while the Dáil President, a regular guest of Walter Cole (mentioned above), stayed in 3 Mountjoy Square before moving to Government Buildings on 28 June 1922. Swanzy also claimed to have re-organised 2nd Battalion for GHQ (pro-Treaty) during that period – essential work given some key gaps created by the Treaty Split.
Civil War
Since 1918 Paddy had been doing Intelligence work for Captain Tom Moynihan in addition to his Company duties. This continued for the duration of the Tan War. After the Truce and during the Civil War, Moynihan headed the Criminal Investigation Division (CID) at Oriel House.
Swanzy claimed to have kept in close touch with Moynihan and Capt. Joe Shanahan, a GHQ Intelligence officer, during this period and continued to supply of intelligence up to October 1923. But he never formally attested with either the CID or National Army and his intelligence activities were unpaid but not unrewarded as we shall see.
He claimed his house was invaded by anti-Treaty raiders in December 1922 because of his known links to the government forces. The raiders set a fire but their leader, known personally to Swanzy, told him he would not carry out his orders to "crease" Swanzy because of their past IRA association. So, Paddy's life was spared and, with help from neighbours, his house was saved too.
Swanzy was also closely associated with his former O/C, 1916 comrade and Custom House man, Tom Kilcoyne, who had become a Commandant in the National Army. Paddy claimed to have "fought in Jacob's factory during Four Courts week" with Kilcoyne. Their friendship appears to have stemmed from their 1916 Rising experiences together; and both were Bakers by trade.
Around the middle of 1922 the two men started up Swanzy, Kilcoyne & Co., a Bakery business – in, of all places, Moreland's (the old Squad HQ at 10a Upper Abbey Street). Establishing the new venture soon became Swanzy's task alone as his business partner Kilcoyne went on the Army's ship-borne expedition to Cork. Paddy was able to use funds from a GHQ cheque, sanctioned at top level, for £300 payable to himself and Kilcoyne for services rendered since the ratification of the Treaty. He was also active with the pro-Treaty side on supply of provisions, recruitment and organisation work.
But the business seems to have struggled financially. In 1924 there was an unseemly shady episode when Swanzy and Kilcoyne were charged with receiving stolen goods and brought to court. They were discharged without sanction by the judge after returning the items.
Military Pension
Early the following year Paddy applied for a military pension, wisely seeking assistance in advance from Major General Gearóid Ó Súilleabháin, GHQ Adjutant-General and head of the Pensions Board. Swanzy was in bad financial straits. But he received some very good references including two covering the Easter Rising from Comdt. W. J. Brennan-Whitmore and Capt. Charles Saurin.
For his later activities, he earned tributes for his efforts in Cork. And in Dublin, Michael Kilkelly, former adjutant of D Coy, said that Swanzy was "one of a special party who were always available for special work". Lieut. Nicholas Leonard referred to him as "one of the most trusted and fearless Volunteers in the 2nd Battalion". Capt. Michael O'Kelly, a fellow Custom House Man, confirmed Swanzy's arrest along with himself at the Burning. Pat Moynihan credited him with valuable intelligence on movements of anti-Treaty men, location of arms dumps etc. He added "During the whole movement, I knew of no officer more capable and self-sacrificing".
Owing to the absence of a service record for the latter years, Swanzy was one of the special cases causing head-scratching over their eligibility for a pension. Inevitably there was some bureaucratic indecision and delay before Paddy finally received his award in 1926. He was credited with more than ten years service as an NCO and payments were back-dated to 1 October 1924.
Two Big Steps
In 1929 he moved his confectionery business and residence out to Rathmines, a southside township. Nothing is known about his life during the 1930s. The next event recorded for him was his marriage to Margaret 'Molly' Coleman in Aughrim Street church on 5 December 1942. She lived on Sitric Road, Stoneybatter. As a baby, Paddy had lived at Essex Quay, on the site of the original Norseman settlement. Coincidentally, he was now going to move to Molly's house on a Viking street near their former Oxmantown enclave. But he would not settle in there immediately. It seems the spirits of the Old Norsemen led him to follow their maritime adventures!
Shortly after the wedding he wrote to the military pension authorities asking them to hold his payments until requested – as he was joining the British Merchant Navy just shy of his 51st birthday. Obviously a mature decision agreed with his new wife! Over the next three years of wartime he was on the hazardous transatlantic convoy route. Paddy returned from the sea on leave each year before ending his seafaring career in early 1946. One letter from the period shows he had contact during his landings Stateside with the sons of old comrade Jim Conroy about the latter's Service Medals.
Family Tragedy
Swanzy survived World War 2 but a nephew of his was not so fortunate. Paddy's sister Bridie had married Thomas Casserly, a senior Garda officer in 1923 and had a family. Her son Arthur Griffith Casserly joined the Air Corps but died when a solo training flight ended in a crash near Ashtown, Co Dublin on 15 May 1944. Among the first arrivals at the scene were two of his lifelong friends. Paddy was one of the mourners at the funeral in Glasnevin when full military honours were paid to 19-year-old Corporal Pilot Casserly.
Last Years
Patrick Swanzy appears to have lived a relatively quiet life in his later life and worked until retirement.
He passed away in hospital on 28 October 1974, aged 82, survived by his widow, two sisters in Dublin and one brother in England. He was laid to rest in Glasnevin.
It is not known if he received military honours but an obituary highlighting his 1916 and IRA activities did appear in the Irish Press.
Mrs Molly Swanzy lived to 1986 and was buried with her late husband, an unsung Custom House Man who lived a long and varied life. Hopefully this article does some justice to the memory of an interesting character who did a lot of unglamorous but vital work for the Volunteers, IRA and National Army in addition to his armed activities.
RIP.
Des White