Full Name: Thomas McCabe.
Address: 93 Amiens Street, Dublin city
Unit: F Coy, 2nd Battalion, Dublin Brigade
Born: 19 October 1895 at Gravelmount, Castletown, Co. Meath.
Parents: James (a Small Farmer) and Catherine McCabe, originally Meighan.
Siblings: Brothers Patrick, John and Robert; sisters Annie and Christina.
Military Service: Thomas was a member of F Coy, 2nd Battalion, Dublin Brigade according to the 1935 IRA Membership Lists. Nothing is known of his activities other than his participation in the Burning. He was arrested at the Custom House on 25 May 1921 and held in Arbour Hill before being interned in Kilmainham Gaol. He was kept in Cell 1, Section 3.
While there he featured in one photo taken kept in Cyril Daly's album and also wrote a verse about the Burning in another comrade's autograph book.
McCabe was released with the others in December 1921. According to the Civic Guard Temporary Register, he went to live on Fair Street in Drogehda, Co. Louth – the address shown when he joined the new Irish police on 27 October 1922. Thomas was Register No. 2083, recorded as 5 feet 11⅛ inches tall with chest measurements of 37 inches normal and 39½ inches expanded. Interestingly, his previous rank in the IRA was noted as NCO.
Personal Life: In his youth Thomas had remained in his native county till at least 1911, based on census data. It is not known when he first came to Dublin or what he worked at. After the Tan War and Civil War hostilities were over, Thomas transferred to the new Garda Síochána police force. His Warrant Card was issued on 26 November 1924.
On 11 September 1928 Garda McCabe married Kathleen L. Ronan, a Confectioner from 3 Seville Place, at St. Laurence O'Toole church. He was then based at Booterstown Garda Station on Dublin's south coast. The couple had a family of one daughter and several sons. His wife Lena (also known as Ellen) died in 1979.
Former Volunteer and Garda Thomas McCabe passed away on 2 June 1984 aged 88 in St. James' Hospital. He was a retired widower late of 8 Almeida Terrace, Brookfield Road, Kilmainham and was buried alongside his late wife in Deansgrange Cemetery (plot 31/M/St Oliver). Thomas was survived by his sons, one daughter and grandchildren. The death notice published by the McCabe family paid tribute to Thomas's Old IRA and Garda service.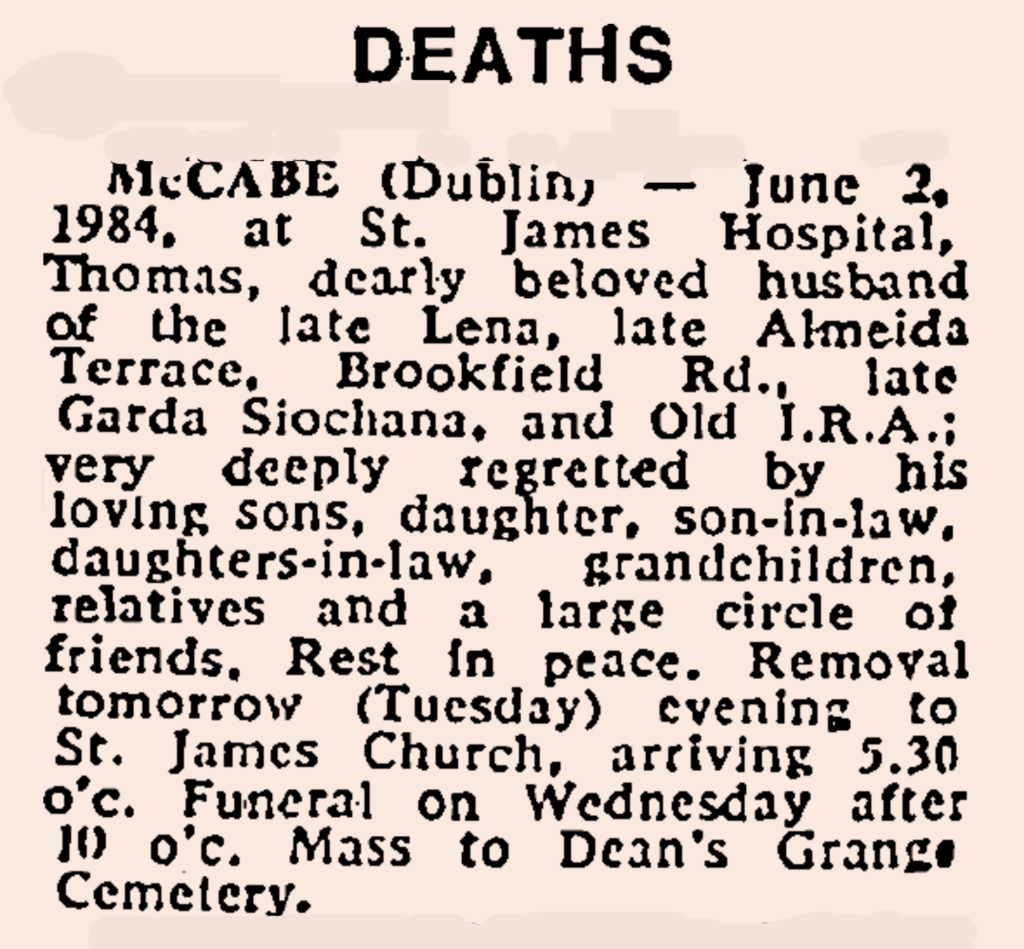 Relatives: None known.
Des White