Born in The Kingdom, after living in England in his early teens Frank joined Na Fianna in Dublin, then the Volunteers. As a Squad man he took part in all of their major jobs until arrested at the Burning and jailed. During the Civil War he was a Battalion O/C and in GHQ Intelligence when he earned a reputation for mistreatment of republican prisoners. Comdt. Bolster had to leave the Army after the Mutiny. Shortly after, he married a former Cumann na mBan officer. Frank subsequently got a state job, raised a family and lived out the rest of his life peacefully.
Origin and Background
Francis Joseph was the son of a Clerk named Richard Bolster and his wife Ellen 'Ellie' Clifford, both Kerry folk. Frank was born on 27 January 1901 in Boherbue (now Boherboy) near the railway station in Tralee (since named for Roger Casement). He was one of eleven children, four of whom died as infants. The family is recorded in Tralee in the 1901 census.
Ten years later most of them show up at 9 Briarfield Road in the town of Seacombe, Cheshire, England. How or why they moved there is unknown, but his father was working as a Freight Clerk in the Grain Trade. Older brother and sister Thomas and Mary Jane were also employed while Frank and three other youngsters, Kathleen, Denis (later known as Desmond) and Alexander were going to school.
It appears all but two of the Bolster family relocated to Dublin not too long afterwards. Thomas and Kathleen remained in England for a time. He married in London in 1923 when she acted as bridesmaid. Thomas then emigrated to the USA three years later with his wife Mary O'Hara and daughter Mary T. His U.S. born son Thomas Joseph jr. would serve with the US Army in WW2 and Korea. Kathleen returned to Dublin and married in 1924. Another brother, Desmond (originally Denis), would serve in the National Army from April 1922. He was discharged on medical grounds in late 1923 as a result of injuries received on duty. He was thrown from a speeding military tender responding to the major IRA attack on Wellington Barracks in Dublin.
With Dublin Brigade
Young Frank joined the Irish National Guards, an off-shoot of Na Fianna Éireann with rooms for meetings, training and drilling in Colmcille Hall on Blackhall Place, off the northside Liffey quays. The HQ was shared with 1st Battalion, Dublin Brigade and the local Cumann na mBan branch.
Among his fellow comrades were Custom House Man Dick Seville and his brother Jim and the Oman brothers. Bolster, who worked as a clerk, went on to become a Volunteer with D Coy, 1st Battalion. He was an active member, taking part in operations such as two bloodless captures of British arms in 1920.
Arms Raids
The first, on 1 June, was at the the Kings Inns, probably most famous because of Kevin Barry's part in the job. Bolster was among a party from Dublin Brigade, the Squad and Intelligence who held up the British soldiers garrisoned there. In the 8-minute raid the IRA captured a haul of rifles, hand grenades, a field telephone and thousands of rounds of ammunition. The main prize was two Lewis machine guns. It is said one was carried off by a beaming young Barry (For further reading, two accounts of the successful raid are here and here).
On the second occasion, 19 July, another D Coy party under Capt. Charlie Byrne including Bolster and up to a dozen others raided the goods rail yard at Kingsbridge station (now Heuston). They knew a small detachment of soldiers from the Scottish Rifles had been posted there to guard three wagons full of military stores stranded by a boycott on the part of the rail workers. In broad daylight in the busy goods terminus, the IRA men quietly held up a couple of hapless sentries. The corporal and main part of the guard were playing cards in one wagon and were taken completely by surprise by Byrne and Bolster. They offered no resistance. The lads tied up and locked the disarmed Tommies in an isolated empty wagon some distance away and set fire to the three carrying the stores, mostly military clothing. They got away safely with twelve rifles and a thousand rounds of ammo being transported away by Pat McCrea (See BMH.WS0631 by D Coy and Squad man Ben Byrne).
Notably, the Dublin Fire Brigade under Capt. Myers who were called to the scene, refused to extinguish the blaze in support of the rail workers' boycott of military loads (and probably in sympathy with the IRA). The firemen stood by in case the blaze spread and left when it was clear the conflagration would not threaten life, or damage uninvolved freight cars or other property. A party of DMP who arrived also kept a watch but did not take any action. The military materiel was completely destroyed.
Pulling a Tiger by the Tail
A far more risky and hair-raising operation for Frank Bolster was an attack on an armoured car in Phibsborough on 14 October 1920 (Which also happened to be the day Sean Treacy was killed in the city centre).
The vehicle regularly called to the local Munster & Leinster Bank branch (now Loretta's Restaurant) to collect army pay. The IRA had noted the crew became lackadaisical once their officer passenger, who had one arm, entered the bank.
D Coy planned to use – believe it or not – hardback books to prevent closure of the car's shuttered openings and then fire though them at the crew inside. A few brave men would obviously need to get right up against the car and even climb onto it to accomplish the objective.
Bolster was one of three posted across the road to take out the machine-gunner standing in the turret hatch after their comrades had disabled the driver. Unfortunately for the IRA closing upon the vehicle a shot was discharged accidentally by one of them which alerted the bored crew. They came to life immediately, the driver opened fire with his revolver and killed Vol. William O'Connell (aged 20, an employee of Inchicore Railway Works originally from near Mallow, Co. Cork and living at 27 Tyrconnell Road).
Although the driver was shot in the shoulder, the attack became a disaster and the remaining IRA had to flee under heavy machine gun fire while passersby scattered in panic. Another volunteer was slightly wounded as the surviving volunteers escaped the scene. It would not be Bolster's last up-close encounter with an armoured car.
A further close shave for Frank occurred later in the year when an attempt to buy arms from a soldier went wrong. Bolster and his comrades narrowly avoided arrest that time.
Squad Actions
Frank Bolster was one of the reinforcements to the Squad made in 1920 (according to Joe Leonard and Vinny Byrne). His own Pension application says he joined what he termed the "Execution Branch, Intelligence" on 1 April 1920. He has usually been associated with GHQ Intelligence but the distinction between that and the Squad can be a little blurred as they worked closely together. And in some cases, Intelligence men carried out shootings.
Among Bolster's jobs was the execution of the informer Shankers Ryan on 5 February 1921 in a pub on Gloucester (now Sean McDermott) Street. Ryan, attached to military police in Dublin Castle, was identified as the man responsible for the capture of Dublin Brigade senior officers Dick McKee and Peadar Clancy on the eve of Bloody Sunday and murdered in the Castle the next day.
Later that month Frank, with Jim Slattery, Ned Kelleher, Ben Byrne and Specky Griffin, was also responsible for the execution of three RIC men on Parliament Street. Bolster had a special escort from the scene as we shall see towards the end of this article.
He also participated in successful raids on crown forces mails to capture intelligence and identify spies, secret agents and informers; and the assassination of British intelligence officer Capt. Cecil Lees.
As related by Ben Byrne, himself and Bolster were the shooters of Lees on 29 March 1921 in Exchequer Street, while the victim was walking to his office in nearby Dublin Castle. Byrne's account, told with some humour, gives some insights into the deadly cat-and-mouse game played by the IRA and British forces on the streets of the city.
Armoured Car Captured
Yet another daring escapade involving Frank occurred barely two weeks before the Custom House attack. Longford Brigade O/C Sean MacEoin had been wounded and captured in Mullingar then transported to Mountjoy Prison to face a court martial on capital charges. One of his admirers was Michael Collins who determined to free his comrade and was in a strong position to make that happen.
An amazing plan was put together to use a powerful British military asset against them. With inside information and assistance, a combination of GHQ Intelligence, the Squad and hand-picked skilled Dublin Brigade men would simply take an armoured car into the jail and spring MacEoin!
After a couple of aborts, the IRA force went into action on the morning of Saturday 14 May. Led by Paddy O'Daly, the group took over the City Abattoir at the corner of North Circular Road-Blackhorse Avenue and held up the crew of a Peerless armoured car. After some gun play left one soldier dead and another wounded, the hand-picked IRA crew of drivers Pat McCrea, Bill Stapleton with gunners Peter Gough and Sean Caffrey, drove it away – with Tom Kehoe along for the adventure too. Not far down the road to Phibsborough the car picked up two 'British officers' (Emmet Dalton and Joe Leonard in Dalton's old WW1 uniforms) and successfully bluffed their way into the compound of the prison.
At the pedestrian (wicket) gate were Squad men Frank Bolster and, some say, Sean Doyle with Jack Walsh from Intelligence along with Áine Malone of Cumann na mBan. They were backed up by others in the vicinity on North Circular Road including O'Daly, Tom Ennis and a few more, standing by to help if needed. Áine created a diversion making a fuss over a mis-addressed parcel for a prisoner and Bolster and his comrades rushed the wicket gate, preventing it from being locked. They held up the warders on duty and grabbed the keys without attracting the notice of anybody outside the gatehouse.
Inside the prison, the pair of disguised IRA men, Dalton and Leonard, got as far as the governor's office where MacEoin was supposed to be at the time. But through bad luck he wasn't there, things unravelled after an alarm was sounded and the whole IRA party was lucky to escape following a gunfight with sentries in which Walsh was wounded in the hand. He was taken away for treatment on O'Daly's bicycle and made a good recovery. Bolster and the others melted away while the armoured car was driven east down the streets towards the city.
The IRA in the car evaded the extensive response by the crown forces, but the armoured car had to be abandoned. After stripping it of its guns and trekking through fields, the crew all made it home safely. The British were pushed into panic mode for a time, even barring entry by all armoured cars to their own barracks and using an aeroplane to find the missing vehicle. One very funny incident involving Squad wheels-man Pat McCrea and some Auxies occurred later that day in their barracks. They actually discussed, over drinks stood by one Auxy, the armoured car escapade. Even the unflappable McCrea, who had been the driver of the very same vehicle earlier that day, must have struggled to avoid choking with laughter.
Someday we hope to tell the full Abattoir-Mountjoy story – in which several Custom House Men played leading roles – here. Someday!
Custom House and Kilmainham
Frank was on duty with the Squad again on 25 May 1921 when they took part in the Custom House attack. He became one of the many prisoners taken that day.
At the time he was living at 60 Oxmantown Road off the North Circular, near enough the the City Abattoir.
After a few weeks investigation in custody at Arbour Hill, he ended up interned with the rest of the Custom House Fire Brigade in Kilmainham Gaol.
Bolster appears in a few photos taken during his time in the prison.
He also has an entry in Cyril Daly's jail photo album.
Frank was among the large contingent freed on 8 December 1921 following the signing of the Treaty. He resumed his position with the new Dublin Guard unit, formed from an amalgamation of the Squad and ASU, at their training camp in Celbridge Workhouse in Co. Kildare, just over the Dublin county border.
Civil War
When the IRA split occurred in 1922, Bolster – like all the surviving Squad and Intelligence men – remained with the pro-Treaty faction which was to become known as the National Army. He was a key member of the old Collins inner circle of gunmen and would play a leading role as an officer from the outset of hostilities.
Frank was made a Commandant as O/C of his old 1st Battalion, Dublin Brigade.
He was one of eight Beggars Bush officers who signed a proclamation dated 31 March 1922 calling for the Brigade to stand with GHQ, the Dáil and Provisonal Government. To say the least, that was hardly an overwhelming success as the vast majority of the Brigade re-affirmed their loyalty to The Republic and opposed the Treaty.
When hostilities broke out in Dublin on 28 June, Comdt. Bolster was early into action, commanding a National Army attack on and siege of the IRA outposts at the Fowler Hall at the same time the attack opened on the Four Courts. His unit included – you've guessed it – an armoured car. They peppered the building with bullets but the assault was not pushed to the point of actually invading the building. The IRA occupiers were able to evacuate before setting fire to the position and re-grouped elsewhere.
This may have been an acceptable result for Bolster's men rather than a failure. Perhaps it was not seen as essential to take out all the anti-Treaty men by killing or capturing them, although they did subsequently continue their resistance. At that stage hopes still existed that fighting would not persist. There was still a reluctance to shoot old comrades and fellow Irishmen. The bitterness which would emerge later had not yet developed. Sadly things would change for the worse, fighting would extend almost nationwide and atrocities would be committed by both sides. Frank Bolster's name would be associated with Free State brutality.
Notoriety
Comdt. Bolster played his part in the remaining fighting in Dublin city and the south county as it extended down the east coast. In July he was involved in the aftermath of the Killurin, Co. Wexford train ambush. The train had been carrying IRA prisoners to Dublin escorted by a party of National Army troops when it was attacked by a large force of local anti-Treaty forces. After a gun battle which left two privates dead and many wounded in the riddled and blood-soaked carriages, the attackers withdrew. A replacement train brought the troops and their prisoners to Harcourt Street Station where it arrived after dark. The IRA men were de-trained and greeted by a Free State 'reception party', among whom was Comdt. Bolster. In an outbreak of firing possibly started by Republican snipers attempting a rescue – although this is disputed – one Wexford prisoner, Richard Tyrrell, was shot (He died from the effects in 1925). It is noteworthy that the prisoners O/C Frank Carty specifically stated that Bolster and his comrades had not fired directly at them from point blank range. Without further incident, the prisoners were then taken away in lorries to captivity (There is a detailed and very interesting account by Aaron Ó Maonaigh of the whole Killurin ambush story in the context of the Civil War in Co. Wexford here).
It is also noteworthy that in the Pension application of Robert J. Magee, an anti-Treaty member of 6th Battalion, Dublin Brigade, he actually named Bolster as the man who took him prisoner at Ballybrack, south Co. Dublin in September. There was no mention of him being abused (unlike others, as we shall see) and he survived to be interned at Newbridge Barracks.
Free State Heavy Gang
Frank Bolster was based in Wellington Barracks (now Griffith College). When Charlie Dalton was in command after Liam Tobin was sent on the Cork ship-borne expedition, Bolster was one of his key senior officers (along with the later-notorious Capt. James Murray). He, with some other former Squad and Intelligence men, gained a reputation for beating and torturing republican prisoners held in the barracks and in Mountjoy Prison. Anti-Treaty Intelligence named him among twelve Free State officers engaged in such activities, even referring to them as the "Free State Murder Gang".
A 1916 Battle of Mount Street Bridge veteran and anti-Treaty activist Joseph Clarke left a written statement specifically naming Bolster and Joe Dolan as his tormentors during a savage interrogation in November 1922. Several other captured IRA men also made statements detailing similar abuse in which Bolster, Dolan and others feature regularly. Sadly it was a practice not unique to Wellington Barracks or indeed Dublin. Nor were Frank Bolster and Joe Dolan the only – or the worst – Army perpetrators.
Mystery Shooting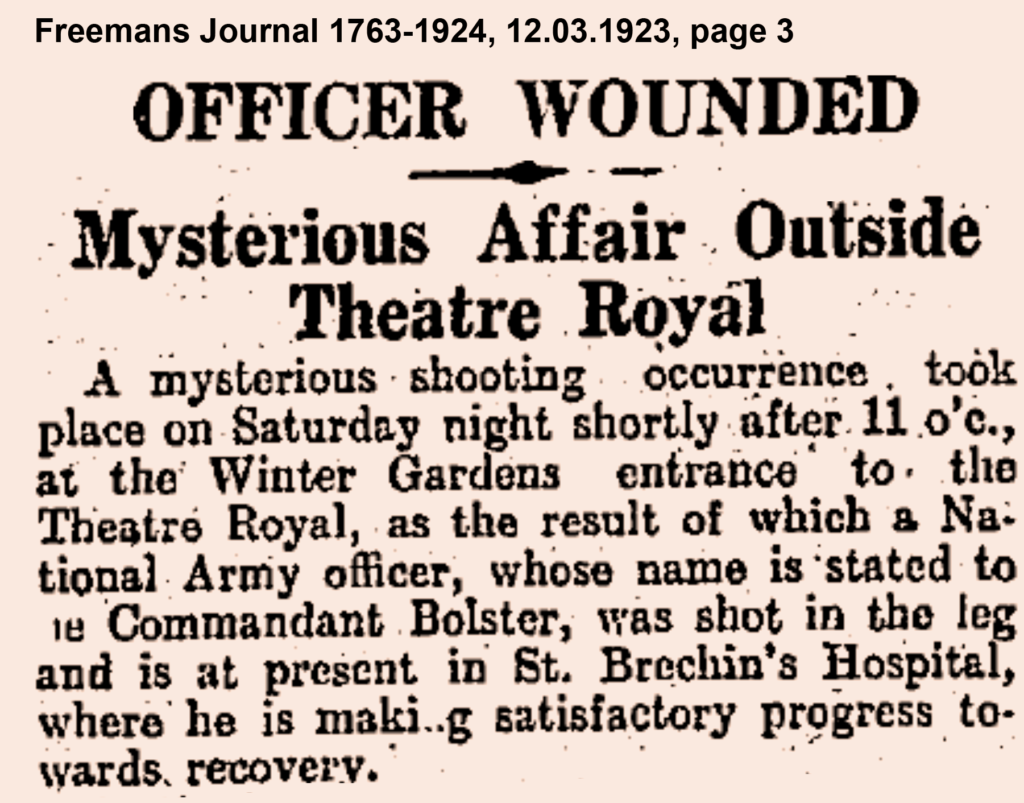 Perhaps Bolster's reputation had something to do with him being shot in the foot at Dublin's Theatre Royal on the evening of 11 March 1923. Frank was there socialising, off-duty and wearing civilian clothes. Some kind of altercation broke out after which a young medical student claimed he had been struck on the head and badly cut by a National Army officer's revolver. While he was being assisted by police outside, some shots were heard in the foyer. Next thing a man staggered out the door calling out he had been shot and collapsed, bleeding heavily, on the path. A passing military patrol recognised him as Comdt. Bolster and took him to hospital in their vehicle. He underwent surgery and recovered. As the newspaper report says, the details of what happened were not revealed and the assailant was not identified. Maybe that was just as well for the shooter, given Bolster's reputation and who he knew!
There were a few similar incidents around the city in popular venues like the Theatre Royal, pubs and other places where people mixed in those times. And gun attacks also occurred on the streets, e.g. Tom Ennis and a CID man were shot and wounded walking near Parnell Square on St Patrick's night, 1923.
While the Civil War was no longer hot in Dublin, many peoples' tempers on both sides were. There were plenty of Republican activists and sympathisers around and feelings were still very raw. Some frustrated anti-Treatyites harboured feelings of revenge or retribution against the Staters. And some military officers did not help their own cause, behaving in an over-bearing manner unbecoming of their status and rank. Underlying tensions could flare into violence. Arms seemed to have been commonly carried by citizens and off-duty Army men alike with few controls.
When alcohol was added to the mix, it was no surprise that political rows broke out at social gatherings. You never knew what sympathies the person in company next to you might hold. Careless or provocative words or actions could cause heated arguments that sometimes led to gun-play. Bolster was lucky he did not end up dead, as happened to an unfortunate Citizens' Defence Force man shot by a very drunk Lieut. Frank Teeling after a tragically pathetic and trivial row at the same theatre on 27 March.
"A Pathetic Ceremony" and "The Simple Cross"
Frank was posted to the south where he became O/C of 59th Infantry Battalion, Cork Command. He was based at Kinsale some time after the death of his old C-in-C. Men like him who had been personally close to Michael Collins and part of his inner circle felt his loss very deeply.
So-much-so in Bolster's case, he had a 4-foot tall wooden memorial cross made. On 21 June 1923, himself and four Army colleagues with Mary Collins Powell (Michael's sister) placed it at the spot where Collins died at Béal na Bláth. They chatted for a little while, said a prayer, had some photos taken and left. The photos were published in the Cork Examiner which used the captions quoted above.
So when a much larger Army ceremony was held in the place on the first anniversary that August, it must have given him much pride to have a special role.
Frank was one of the firing party and the officer in charge was his old buddy Col. Ben Byrne. Notably, of all the former Squad members in attendance, they were the only two given the special honour of firing the three volleys before the Last Post was sounded.
Leaves Army
The end of Comdt. Bolster's military career came after his involvement with the disaffected IRAO elements in the National Army. In protest against their demands being ignored, he resigned his commission on 25 February 1924 although this was not accepted by the government until 7 March, in the aftermath of the "Army Crisis".
Civilian Life
The following month Frank married former Cumann na mBan member Catherine 'Kathleen' Walsh from Terenure in her local Church. He himself was also living in Terenure Park, working as a 'Commercial'. The best man was a Charles Byrne – possibly an old Intelligence comrade nicknamed The Count?
Hardly anything is known of Frank's life in peacetime. The Bolsters had three children – Helena aka Eileen (died aged 11 in 1943), Elizabeth Laura (later Griffin, died 2005) and Kevin J. (died 2009). His father Richard died in 1944. At that stage Frank and family were living in Stoneybatter and he was working as a Ship Inspector with the Department of Agriculture.
He went along to a Squad reunion in 1948 to pay tribute to their original O/C Mick McDonnell on a visit from his home in California.
Francis Joseph Bolster had retired from his job not too many years before he passed away on 17 July 1968 in St. Mary's Hospital, Phoenix Park. He was aged 67 and married, a former civil servant with the Department of Agriculture. He was late of St. Joseph's, 25 Coolgreena Road, Beaumont.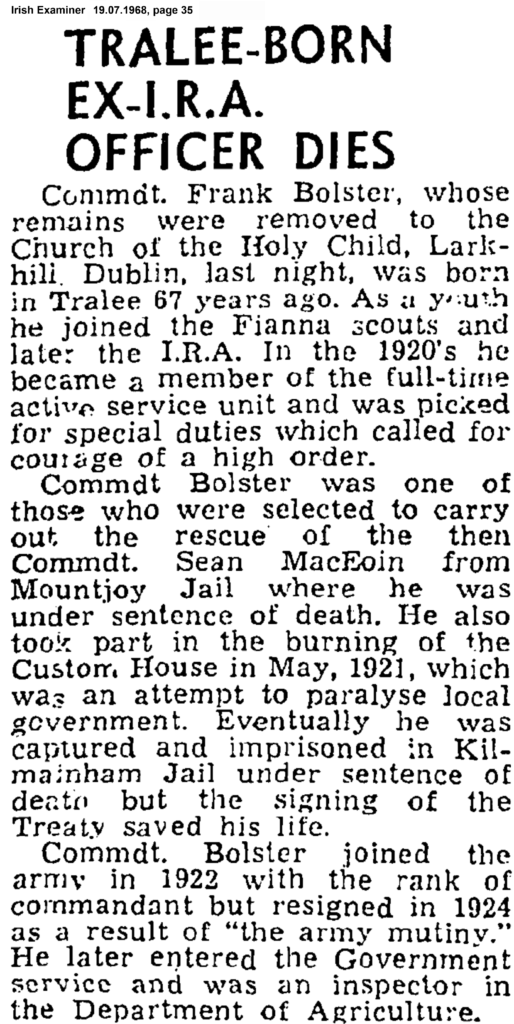 Several papers in Dublin and Cork published obituaries.
Frank was buried in plot JH226, St Bridget's section, Glasnevin Cemetery.
He was survived by his widow Kathleen and their two children, three brothers and one sister.
All are now deceased and we have not traced any living descendants. But Kathleen did leave some details of her service during the revolutionary period.
A Brave Woman
Kathleen had been First Lieutenant in 1st Battalion, Colmcille Branch of Cumann na mBan (Her siblings Eileen (later Diggins) and Philip Walsh were also active; he was killed in action on the last day of the Rising). Although Kathleen took part in several notable events and actions from 1916 up until the Truce and no less than Dan Breen gave one of her references, her military pension application was unsuccessful. However, she was awarded a 1917-1921 Service Medal without bar. And Kathleen did eventually receive a Military Widow's pension in 1971.
Since her Cumann na mBan branch had used the same HQ as Frank's IRA Coy, it is a good possibility they may well have met that way. Another interesting incident linking them involves the Parliament Street ambush of three RIC men in February 1921 mentioned above. In her pension file, Kathleen claims she accompanied two of the shooters from the scene. One tactic used by the brave Cumann na mBan women like her was to walk with IRA men leaving a job – to give the appearance of innocent friends out strolling – while also probably carrying their guns hidden on her person. One of the shooters that day was, of course, her future husband. In addition, the Walsh sisters Kathleen and Eileen, made their home available as a safe house for Frank and others from the Squad and as an arms dump for Dublin Brigade QM Peadar Breslin.
Conclusion
The Bolster couple were re-united in Glasnevin Cemetery on Kathleen's death in 1981 (error in year on headstone pictured above). They had lived through very interesting times in their youth and both gave excellent service to their country.
While Frank's reputation was tarnished during the Civil War, his previous activities deserve respect. Having lived on the edge for many years and losing close comrades like Tom Kehoe, his leader Michael Collins and others in supporting what the Treaty offered, it seems he had no tolerance for those who fought against it. That is not to justify his strong-arm actions against Republican prisoners but perhaps helps explain them. At this remove, it is not for this writer to judge him here. You the kind Reader can decide for yourself.
Perhaps it is best to end this piece by simply recognising Frank Bolster as one of the Custom House Fire Brigade who fought for Irish Freedom.
Des White