Full Name: Peter Joseph Leddy, known as Joseph.
Address: 14 Upper Buckingham Street.
Unit: Claimed to have been in B Coy, 2nd Battalion from March 1920 (or 1921) and Na Fianna before that. But also stated on another occasion that he was not an IRA member.
Born: 21 March 1902 at 13 George's Place.
Parents: Peter (a Carpenter and Wagon Builder originally from Co. Kildare) and Ellen Quirke, a Kerry woman.
Siblings: Mary Anne, Christopher and Jeremiah (aka Gerard).
Military Service: Joseph claimed to have applied for a Military Pension in 1937 but did not respond to forms sent several times during ongoing correspondence in the 1950s. He wrote a succession of rambling and difficult to read letters seeking compensation for various after-effects of his arrest at the Custom House. At times he made conflicting statements. He did name many of the men involved in the operation – Tom Ennis (deceased), Tom Kilcoyne, Tom Kehoe (deceased), Frankie Freyne, Jim Conroy, Joe Griffin, Mick Love, Richard McGrath, Jack Grace, Jack Young (deceased), Frank Bolster, Tom Flood – as this example shows.
But Joseph would have met most of those men (apart from Tom Flood) in Kilmainham Gaol afterwards, whether he knew them beforehand or not.
He also mentioned some details of the Custom House job like tins of paraffin, a whistle as the set fire signal, being trapped between the flames and the gunfire from the "Tans" outside and being the last man with Tom Ennis before his dash for freedom. Leddy claimed he had to carry out a heavy and elderly female civil servant who had collapsed in the building and he was hurt in the process. He said he began to feel ill on the way to Arbour Hill. His condition progressively worsened so he had to receive medical treatment in the jail and in KGV Military Hospital. He was freed on health grounds a few weeks before the General Amnesty in December 1921, being advised to see a doctor. Subsequently he underwent two surgeries on his stomach which he blamed on injuries at the Custom House and bad food while in internment.
What emerges from his letters is a strong impression of an unfortunate man in bad circumstances desperately seeking financial assistance after years of struggle with health problems and difficulties getting or keeping jobs.
But one civil servant felt little had been done to check his credentials with the Old IRA.
This resulted in a re-investigation of Joseph's case. Sadly, his application was eventually refused as it was received after the cut-off date in 1955. His claim for a Service Medal was also turned down because of insufficient evidence of his IRA membership. His name is not on the B Coy membership roll.
Personal Life: Joseph worked with the Department of Posts and Telegraphs, Testing Section, John's Road for some time before and during The Emergency. He never married.
Death: Joseph died on 27 December 1965 aged 64 in Dr Steeven's Hospital. He was recorded as a single Labourer late of 15 Faussagh Avenue, Cabra West. He is buried in Glasnevin plot IG69, St Paul's section (sadly unmarked). He was survived by his sister and two brothers. There was no death announcement in the papers.
Relatives: None known.
Remarks: It took a while to track Joseph down (Found thanks to John Dorins). His name had been recorded by the British military as Joseph Loddey while he had been registered at birth as Peter Joseph Leddy. When applying for a Military Pension/Compensation he used the name Joseph Leddy (File ref. W49SP1682). Very little about the man's life and nothing of his IRA career – apart from what he claimed – is known, as can be seen from above.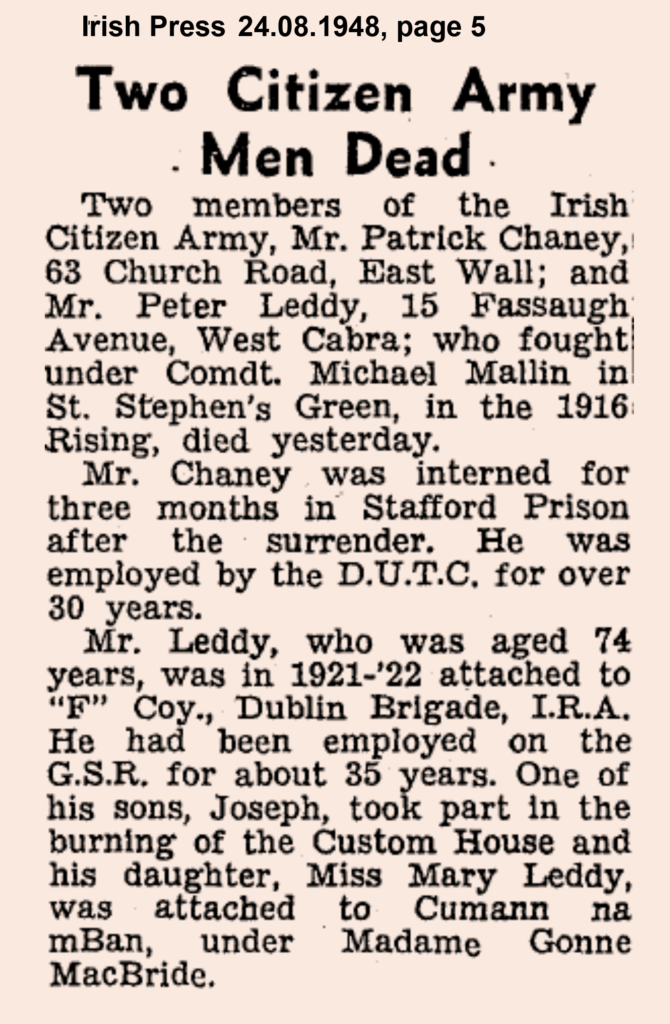 Joseph's father Peter was a 1916 ICA man originally from Co. Kildare who fought under Comdt. Michael Mallin and Countess Markiewicz at St. Stephen's Green and the College of Surgeons. His Military Pension files are online (MSP34REF60219). He passed away in 1948. His wife Mrs. Ellen Leddy died ten years later.
Joseph's sister Mary Anne was involved with Cumann na mBan and also worked with the Irish White Cross for the Republican Prisoners Dependents Fund. She never married and met a very sad and tragic end in 1971. Her Military Pension file reference is 49SP6760.
Des White